Goa Bird Conservation Network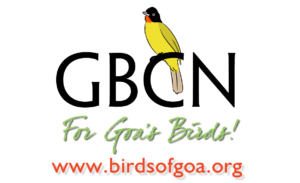 have just announced the Goa Big Year 2017. This is a year long event that encourages all birders to record as many birds as possible, using eBird, within the state of Goa state.
It is open to visiting birders as well as Goan residents, but you do have to register before the end of January 2017 to take part. Read the GBCN announcement for more details, and register using the form provided there.
As well as being a fun event that anyone can easily take part in, it will help increase documentation of birds across the state and particularly provide some insights into seasonal distribution.
For further details contact GBCN.
Goa Bird Conservation Network is a Bird Count India partner and operates the Birds of Goa website. In collaboration with the Goa Forest Department, GBCN has conducted surveys and censuses in all protected areas in Goa. GBCN also undertakes the Asian Waterbird Census in Goa, promotes bird documentation using eBird, and runs monthly public bird walks.
---
Header Image: Black-capped Kingfisher Halcyon pileata © Snehasis Sinha