The GBBC is now over and it is great to see so many checklists from across the country coming in. Many observers have been in areas with poor internet connectivity so we expect more lists to come (please upload to eBird by the end of February). However it is worth looking at what information we have so far.
5,194 lists (of which 4,769 are complete and 15 minutes or longer)
683 species
828 participants (i.e. those people that actually have a list on eBird, whether individual or shared: many more people have accompanied others on bird walks)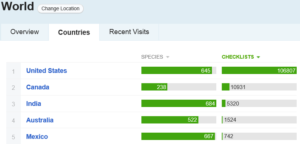 Impressively this is the 3rd highest number of checklists out of the 135 countries worldwide that have participated in GBBC, as well as the highest number of species from a single country.
Common Species
Across the whole of the country the most frequently recorded species, in terms of percentage of complete lists, were:
House Crow 50%
Common Myna 47%
Rose-ringed Parakeet 40%
Rock Pigeon 40%
Black Kite 39%
These figures are based on the overall coverage as shown in the map below, and will vary from region to region.
Coverage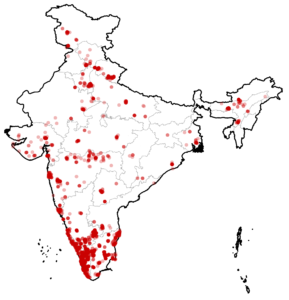 The map shows the location of each checklist – darker shades show multiple lists from the same or nearby locations.
Checklists have come from 75% of states and union territories (27 out of 36) and 30% of districts nationally (194 out of 640)
This year is already showing greater participation in the Campus Bird Count compared with last year – we'll have some statistics on this in a subsequent update.
[wppa type="photo" photo="33″ size="auto"][/wppa]
Campus Bird Count Participants in Jammu © Parvaiz Shagoo
Many thanks to all those who have participated. This really is a great showing! We still have some way to go to meet last year's totals of checklists and species – look out for a final report from us in early March.