---
PRESS KIT
India Takes Part in Global Bird Count. Press note, 6 Feb 2015.
From 13th to 16th February, hundreds of birdwatchers from all over India will be looking for birds, recording what they see and putting the information online. They will join over 100,000 other bird enthusiasts from all over the world in the global Great Backyard Bird Count (GBBC), an annual four-day event open to everyone across the world…
[Download the full Press Note and accompanying photographs. If you use the photos, we request you to credit the photographer too.]
 POSTERS/FLYERS
Here is a selection of posters that can be used for publicity — as mailers/flyers accompanying an email announcement or a Facebook post. We also have high resolution versions of these: please email us if you would like print-resolution files <birdcountindia |at| gmail.com>. Right-click on the thumbnails below to download.
GBBC flyers





PRESENTATION
We have put together a powerpoint presentation on "An Introduction to Birds and Birdwatching", which includes section on birds in general, a guide to common Indian birds, and a section on Beyond Birding, with some slides about the GBBC. You are welcome to download this presentation, modify it for your audience and context and use it. There is an accompanying word document with notes for each slide, to help with the presentation. If you do plan to use the presentation, please do let us know; and afterwards, tell us how it it went!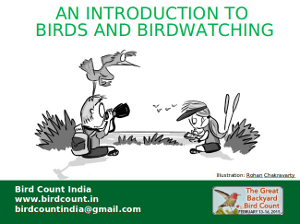 Presentation (v0.2): .ppt (17Mb) or .pdf (7Mb) | Notes: .doc (40Kb)
On some computers (eg running Linux/LibreOffice) the ppt presentation may not appear correctly. Please download the pdf instead.
Note: This presentation has been created for the Bird Count India partnership. It is meant for download and use in educational and outreach efforts. You are free to modify it to suit specific purposes and audiences. This presentation is being distributed on the understanding that none of the material it contains will be used for commercial purposes, and that in all cases photograph credits must be retained in any modified version. Most of the photographs in this presentation have been used with the specific permission of the photographer. Others have been downloaded from the internet; for these we apologize for not having obtained advance permission. If your photo appears in this presentation, and you wish to have it removed, please write to birdcountindia |at| gmail.com and we will replace it.
INTRODUCTION TO GBBC IN TAMIL
You can view and download the booklet An Introductory Guide to GBBC and eBird in Tamil at this link (PDF, 31MB).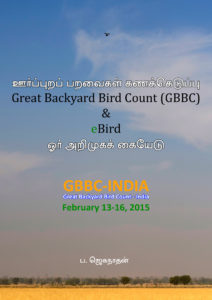 COMMON BACKYARD BIRDS OF GOA
You can download this presentation, by Ronit Dutta, Pronoy Baidya and Madar Bhgat of GBCN at this link (PDF, 2.4MB).