The 2016 Big Bird Day was held on 7 February. A total of 72 teams took part this year, totalling over 435 participants across the country. Over 136 locations were covered, and in the process, 571 species were documented.
Below we have put together some summaries and results from BBD 2016. Thanks to all of you who participated and made this event a great success. See you at next year's Big Bird Day!
---
The map below shows the locations of sites surveyed by BBD teams. As in the previous two years, teams were encouraged to maintain separate lists for each location they covered.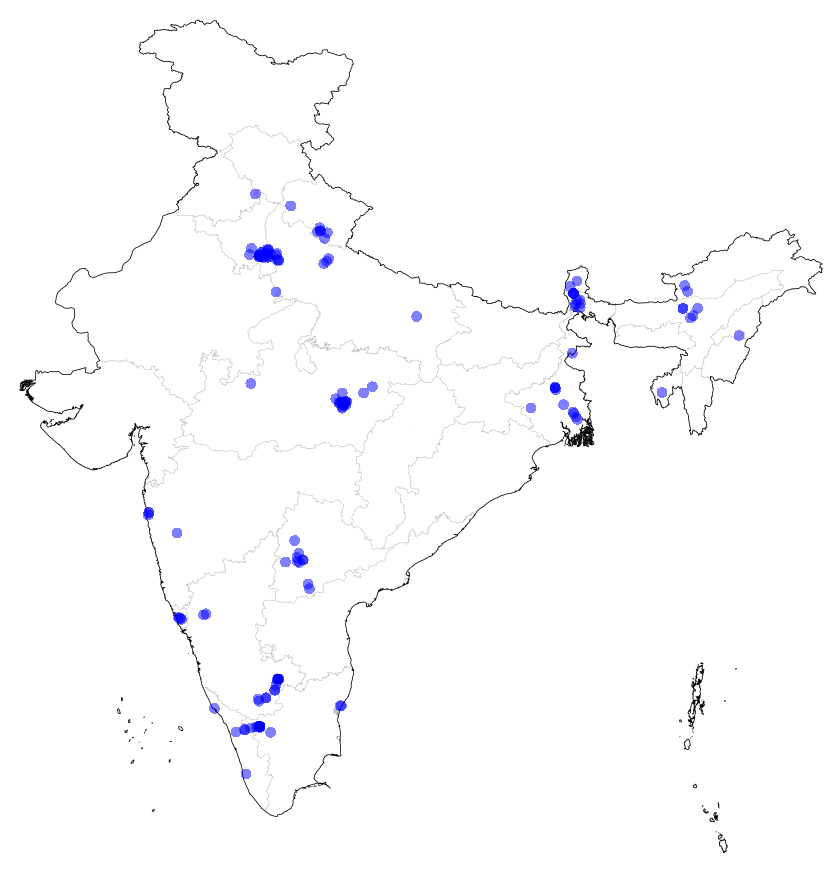 State-wise information is shown below. You can click on the name of the State or region to download csv (comma-separated value) files containing all species from that region, broken down by team ID and list. At the very bottom of the table are rows for Delhi-NCR (covering Delhi state plus surrounds), and also an All India row. You should be able to open the csv files in excel simply by double-clicking on them.
The next table shows all BBD teams, the total number of species each team observed, the States they participated from, and links to each of their individual lists. Where team names were separately specified by the teams, that name is given in the table. If no team name was given, the name of the person who uploaded the list to eBird is inserted instead. Note also that in some cases, teams birded at the same location, but split the location list into shorter time intervals — in such cases the location name may appear multiple times, but with a distinct eBird link.
Note: The links and lists contain all records reported by BBD teams; some records may be pending confirmation by eBird reviewers.
| | | | |
| --- | --- | --- | --- |
| Team.name | No.sp | State | Lists |
| Angry Birds | 80 | IN-AR | Sessa orchid sanctuary |
| WWF-India Western Arunachal Landscape Programme | 42 | IN-AR | Larjyap |
| Anuj Saikia | 35 | IN-AS | Bhurbandha, No1 |
| Biswajit Chakdar | 15 | IN-AS | Orang National Park, Assam, Orang National Park, Assam |
| Green Guard | 61 | IN-AS | Deobali Jalah IBA |
| Green Guard Nature Organization Team 2 | 67 | IN-AS | Nagaon |
| Chandigarh | 119 | IN-CH | 24B, 1027 |
| Aravalli Biodiversity Park and Neela Hauz BP | 55 | IN-DL | Sanjay Van, Aravalli Biodiversity Park |
| Garhimandu City Forest | 43 | IN-DL | Garhimandu City Forest |
| King Vulture (JNU and southern ridge) | 95 | IN-DL | Asola Wildlife Sanctuary, Jawaharlal Nehru University (JNU) Campus, Deer Park |
| KNR Team | 57 | IN-DL | Kamala Nehru Ridge |
| Nazafgarh | 75 | IN-DL | 28.624×76.991 – 7 Feb 2016 10:47, IN-Delhi-New Delhi-64/65 Najafgarh-Nangloi Rd – 28.631×77, Najafgarh Jheel Area, Najafgarh Jheel Area, Najafgarh Jheel Area |
| Team Asola | 98 | IN-DL | Asola Wildlife Sanctuary |
| TVBP team | 57 | IN-DL | Tilpath Valley Biodiversity Park |
| YBP Team | 89 | IN-DL | Yamuna Biodiversity Park |
| Najafgarh-Sultanpur | 102 | IN-DL, IN-HR | Najafgarh Jheel Area, Basai Wetland, Sultanpur Jheel Bird Sanctuary |
| Goa Bird Conservation Network | 84 | IN-GA | Maina-Raia Wetlands, Maitolle Lake & surrounding,Curtorim, Verna Ambulor Lake, CACORA |
| Bhindawas | 152 | IN-HR | Bhindawas Bird Sanctuary |
| Happy | 120 | IN-HR | Basai Wetland |
| Malkoha (Guragaon-Aravalli) | 41 | IN-HR | Aravalli Biodiversity Park, Gurgaon, Malibu Towne, Gurgaon |
| Team Dighal | 161 | IN-HR | Dighal village |
| Team Basai | 145 | IN-HR, IN-DL | sultanpur flats, IN-Haryana-Gurgaon-101 Railway Rd – 28.452×77.031, Najafgarh Jheel Area, RUGBY GROUND VASANT KUNJ, Basai Wetland, Basai Wetland |
| Aparajita Datta | 58 | IN-KA | Home – Green Leaf Ignis Apartment, Judicial Layput, Home – Green Leaf Ignis Apartment, Judicial Layput, GKVK Campus, Bangalore, Jakkur Lake, Bangalore |
| Pronoy Baidya | 35 | IN-KA | Indian Institute of Science (IISc) Campus |
| Rajneesh | 62 | IN-KA | Jakkur Lake, Bangalore |
| Usual Gang of Suspects | 95 | IN-KA | Harohalli Lake, Bangalore, SH 209, Kaggalipura Kere, SH 209, Bannur Heggere, Mandya Dt |
| Vaidehi Gunjal | 93 | IN-KA | Kalkeri, Kelgeri lake |
| WildAndPassionatePhotographers | 46 | IN-KA | IN-Karnataka-Harohalli-Kanakapura Rd – 12.678×77.468, IN-Karnataka-Bengaluru-Unnamed Rd – 12.854×77.51 Valley school |
| Dhruvaraj S | 41 | IN-KL | Nilambur South Division–T K Colony, Amarambalam, IN-Kerala-Pulpatta-Manjeri – Kizhisseri Rd – 11.156×76.064 |
| Team Sandpiper | 43 | IN-KL | Ezhome |
| Vanya Bharat | 19 | IN-KL | vembanad lake |
| – | 49 | IN-MH | Aarey Guest House, Aarey Picnic Point Road, Mahim Nature Park, Mumbai |
| sethi | 43 | IN-MH | ASKARWADI |
| Dumna Nature Society | 187 | IN-MP | Bargi, Gaur Bridge, Narrai Nala, Kakartala, Gaur Bridge, Siluwa Nala, Dumna Airport Road, Amjhar Ghati, Majhauli, Indrana, Robertson Lake and Gwarighat, Jabalpur City, Patan, Lameta Ghat Ashram, Barha Village Tank, Siluwa Nala, Dumna Nature Reserve, Bhedaghat and Khari Pond, Medical College and Narmada Ghat, Dobhi Kumhi Reserve Forest |
| Nil | 72 | IN-MP | MHOW |
| samode safari lodge | 150 | IN-MP | Bandhavgarh national park |
| TCF-Bandhavgarh | 37 | IN-MP | Bandhavgarh |
| Hoolock Gibbon Eco Club | 24 | IN-NL | Chizami |
| Dr Santosh Mahalik | 81 | IN-RJ | Bharatpur–Keoladeo Ghana NP |
| Broadbills_of_Kitam | 75 | IN-SK | Kitam, Kitam, Kitam, Kitam |
| buddy | 76 | IN-SK | yuksam |
| Flying Pearls of Singtam | 27 | IN-SK | Sikkim |
| A.M.AMSA | 37 | IN-TN | Kallar Reserve Forest, Avalanche Reserve Forest, Kaateri vally Coonoor |
| Lekshmi R | 84 | IN-TN | Kaliveli Lake, Erimedu |
| Shanmugam Kalidass | 60 | IN-TN | Kunchappanai, Kunchappanai, Ramasamynagar, Mettupalayam-Kotagiri Road, Kunchappanai, Kunchappanai, Velampalayam Pirivu, Tiruppur , Mullur, Mullur |
| WILD TRIPURA | 54 | IN-TR | Deb Bari, Chobimura, Amarpur, Tripura |
| Hyderabad Birding Pals – Indian Paradise Flycatcher | 133 | IN-TS | Ananthagiri Hills, Vikarabad |
| Hyderabad Birding Pals – Osprey | 112 | IN-TS | singur dam, Manjeera Wildlife Sanctuary |
| Hyderabad Birding Pals – Team Yellow throated Bulbul | 103 | IN-TS | IN-AP-Dindy Dam – 16.5348×78.6775 – 07-Feb-2016, 15:55, Uma Maheswaram |
| PELICAN | 157 | IN-TS | Ameenpur Lake, Botanical Gardens, ICRISAT Campus |
| Short-eared Owl | 116 | IN-TS | Osman Sagar Lake, Himayat Sagar Lake |
| Skua | 127 | IN-TS | Narsapur Forest, Pocharam Reservoir |
| BirdLife India | 111 | IN-UL | Kosi Barrage, Ramnagar, Haathidangar, Forest Compund, Garjiya, Uttarakhand |
| Rajesh Panwar | 126 | IN-UL | Camp Milieu, Baur Reservoir, Haldwani |
| Raman Kumar | 28 | IN-UL | Curzon Road, Dalanwala, Dehradun |
| East Delhi Birders (Surajpur) | 111 | IN-UP | Surajpur Wetlands |
| House Sparrow | 84 | IN-UP | malipur |
| KAAJAL DASGUPTA | 89 | IN-UP | Narayan awas,Delapeer,Bareilly, Akha Village Pond area ,Bareilly, Hazratpur wetlands,Aonla |
| Team Dhanauri | 119 | IN-UP | Dankaur – Greater NOIDA, Dhanauri Wetlands — Dhankaur-Bhatta-Parsaul, Dadri |
| Team Okhla | 79 | IN-UP | Okhla Bird Sanctuary |
| Team Turumti (Dhanauri) | 117 | IN-UP | IN-Uttar Pradesh-YEIDA-Azampur Hussianpur Road – 28.3419×77.6093 |
| Amit Kumar Mondal | 73 | IN-WB | Kopai river bridge associated area, Goalpara, Lalbandh, Ajay Riverbed, Ballavpur lake 1 |
| Arka Sarkar | 42 | IN-WB | Fishery Ponds around Hatgachia and Dharmatala Pachuria |
| Biswanath Mondal | 74 | IN-WB | Mukutmanipur, Bankura |
| Jalpaiguri | 107 | IN-WB | IN-West Bengal-Lish Forest – 26.891×88.571 – Feb 7, 2016 08:20, IN-West Bengal-Jalpaiguri Gazoledoba Road – 26.602×88.589, IN-West Bengak – Gazoldoba – 26.754×88.59 |
| Joydip Sinha | 36 | IN-WB | Teghoria, VIP Road |
| No | 110 | IN-WB | Fulbari Wetland, Siliguri |
| Society for Wild N Nature Concern | 80 | IN-WB | Baidyabati DVC Canal |
| Subhra Pakhira | 73 | IN-WB | Jamalpur |
| Suchetana Sen | 32 | IN-WB | Serampore Water Treatment Plant |
| Suraj Gurung | 41 | IN-WB | Dhoop Company, Pradhan Nagar, Siliguri, Sevoke river bank |
| Team Malda | 65 | IN-WB | Naya Bundh Wetland Complex (IBA) |