Onam Bird Count 2020
28 Aug 2020

-

31 Aug 2020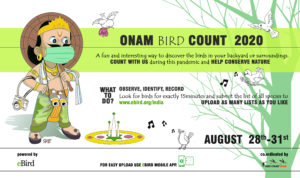 As a part of ongoing effort of Common Bird Monitoring Program (CBMP) of Green Partner's Program from Social Forestry Wing, the seventh Onam Bird Count is being organized on 28th – 31st August 2020. As many of us continue to stay at home, this is a good opportunity for us to watch birds around our residences and list them in eBird during these four days.
For an analysis of Onam Bird Count of previous years, please see here
For those people who participated in previous Onam Bird Counts, there is absolutely no difference in methodology or protocol. Please try to upload as many 15 minute complete lists into eBird (ebird.org/india) during those four days from Friday to Monday.
If you are a birdwatcher who has not tried eBird or have bird-watcher friends who are not using eBird, please use these slides as an introduction or even better, watch this video.
If you have any questions, please do ask them in the comments below.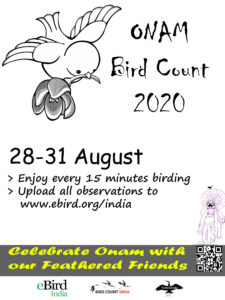 If you are birding outside Kerala, we have no way to know if your lists are part of Onam Bird Count. Hence, please share your lists with the account Maveli Birder