Campus Bird Count 2020
14 Feb 2020

-

17 Feb 2020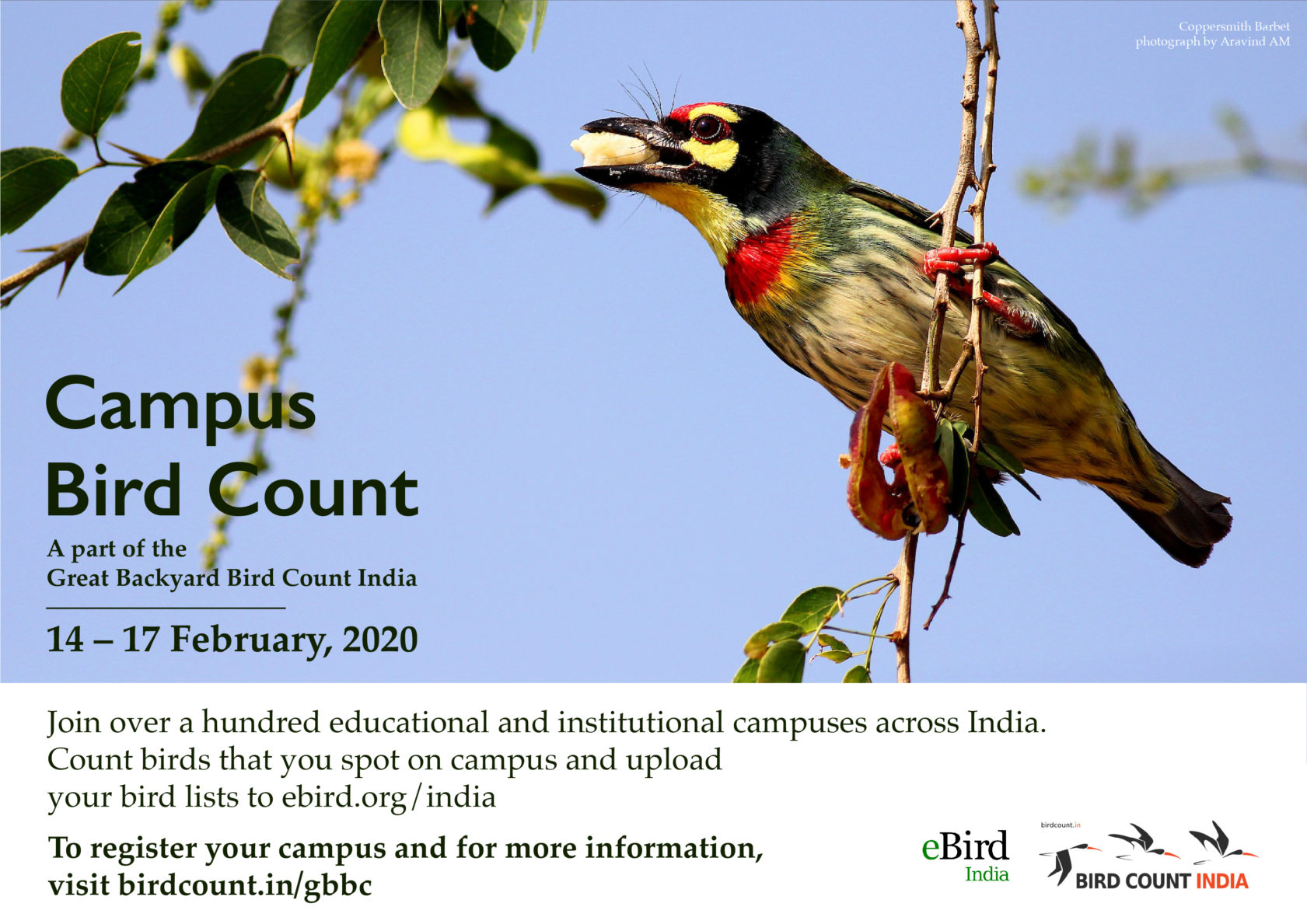 GBBC 2020 | Bird Walks & Talks (Registration form) | Resources | Contacts | Campus Bird Count 2020

Please upload lists by the end of February, so that we can compile a final summary shortly after.
Do you study, work or live on a campus of some form? Are you interested in birds? If so, the GBBC Campus Bird Count is for you!
Skip to: Campus Registration form | List of participating campuses
| | |
| --- | --- |
| What | The Campus Bird Count is a sub-event of the larger Great Backyard Bird Count. It is a coordinated effort to document the birdlife in multiple campuses across India. By "campus", we include campuses of educational and training institutions, government institutions, research stations, corporate campuses, etc. Broadly speaking, any moderate to large sized area where people study, work or live. |
| Why | Outside protected areas, campuses in India often contain surprisingly large amounts of important habitat for birds and other wildlife, even in urban areas. Documenting this wildlife is therefore important and it's also fun and relatively easy! |
| When | 14-17 February 2020 |
| How | Try and get a group of bird enthusiasts (from within or even outside your campus), and organize yourselves in such a way that you cover all different areas and habitats that your campus contains. The protocol is quite flexible: basically you would walk around, and collect as many 15-minute 'complete' lists as possible. In other words, each 15 min list should contain all species detected in that time period. Upload these lists to eBird, just as the general protocol for GBBC describes. |
Last year, 2019, 173 campuses from 21 states/union territories took part in the CBC, documenting 535 species.
Register your campus in the next page.