Bihu Bird Count 2021 (Magh Bihu)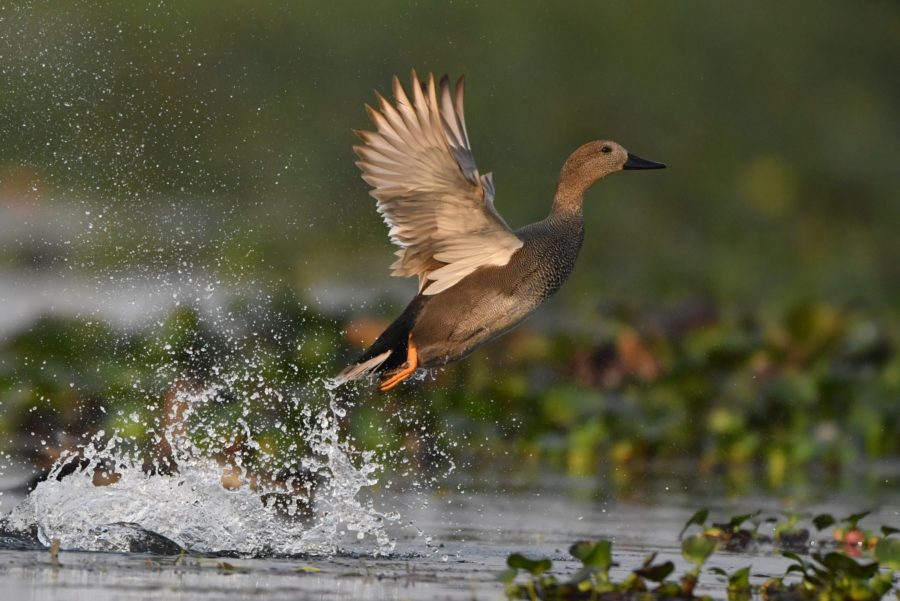 Related events: Bihu Bird Count 2021 (Rongali Bihu)
Results: Bihu Bird Count 2021 (Magh Bihu)
The Bihu Bird Count (BBC), is a bird monitoring program organized by birders in Assam. This program is all about observing and counting wild birds during this particular time of the year in any location. In addition to this, the BBC also aims to promote the association of the festival with nature. Bihu, a festival celebrated by the people of Assam, rejoices the natural progression of seasons by recognizing the different agricultural cycle of paddy crops.
Magh Bihu or Bhogali Bihu has its own importance of celebrating the harvesting season of crops. It is that time of the year when you are surrounded by misted fog, cold nights, and migrating birds. Thus, BBC aims to document the diversity of bird species and their number at this time of the year.
This year the Bihu Bird Count (Magh) will take place from 14 to 17 January 2021.
How to Participate in Bihu Bird Count?
Watch and count birds from anywhere you are in India for 4 days, from 14 to 17 Jan 2021, and upload it to eBird.org/india.
Upload at least one list a day from 14 to 17 Jan. Each list should be of at least 15 minutes or more.
Each list should be a complete list with counts of all birds that you could identify by sight and/ or sound to the best of your ability.
Birders in Assam can contact the following district coordinators to get more details:
1. Barpeta-Parag Patgiri (8638121166)
2. Dhubri-Upasana Devi (9365960541)
3. Kamrup-Taniya Talwar (7002755452)
4. Kamrup Metro-Anushka Saikia (7005521334)
5. Tinsukia-Deborshee Gogoi (9706375001)
6. Sivasagar-Nilutpal Mahanta (8486464948)
7. Jorhat-Miraj Hussain (9864053362)
8. Golaghat-Rofikul Islam (8133964461) /Pallab Prakash Saikia (8761872076)
9. North Lakhimpur-Kallol Hazarika (8486062021)/Pranjal Baruah (7002443189)
10. Karbi Anglong-Langtuk Terang (7002777314)
11. Dhemaji-Kallol Hazarika (8486062021)
12. Biswanath Chariali-Ranjit Kakati (7002720065)/Pranjal Mahananda (8876984113)
13. Baksa-Rustom Basumutary (8638557303)
14. Darrang-Nejib Ahmed (9706632299)
15. Kokrajhar-Deepsmita Nath (9678559563)
16. Udalguri- Nejib Ahmed (9706632299)
17. Bongaigaon-Arnab Bose (7002087926)
18. Chirang-Biswajit Chakdar (7002445928)
19. Bajali- Mondeep Thakuria (8638688382)/Nikita Das (9101856618)
20. Cachar- Prof. Atri Deshamukhya (9954041961) /Salma Sultana (7002542663)
21. Hailakandi- Amir Sohail Choudhury (9954470036)
22. Nalbari- Arpita Bardoloi (8876547925)
23. Morigaon- Gaurab Talukdar (9706766737)
24. Goalpara- Dr. Dhiraj Kumar Borah (8822892928)
25. Karimganj- Rejoice Gassah (6000301194) /Pallab Deb (9435376508)
26. Majuli- Ankur Hazarika (9707524062)
27. Nagaon- Chiranjib Bora (8474053371)/Suranjan Debnath (9365125893/8486613910)
28. Charaideo- Dipen Baruah (9435427374)
29. South Salmara Mankachar-Babul Islam (7002521590)
30. Hojai- Prodip Kumar Sahoo (7002555783)
31. Dima Hasao- Deborah Daolagupu (9577131506)
32. West Karbi Anglong-Amar Hanse (8011774740)
33. Dibrugarh- Dr. Rafiuz Ahmed (9435030667)
34. Sonitpur- Chirantanu Saikia (8638726313)
General Instructions:
If you are bird watching inside a residential society or a campus (university, institute, or organization), please check if your location is already marked as a 'hotspot' in eBird. If it is, then please upload your lists to that hotspot. If it is not, then kindly suggest the location as a hotspot. More about eBird locations and hotspots is here.
Counts will be more productive early in the morning, with birds generally becoming quiet and inactive during the middle of the day.
You could also upload as many counts as you can from a single site or from different sites.
If you are uploading your lists to eBird then the eBird mobile app is one of the easiest ways to upload your sightings. Here are a few video links that can guide you on how to use the App.
Installing and preparing the eBird Mobile App
Upload your sightings through eBird Mobile
Important:
Please upload all your lists before 22 January 2021.
While birding, please ensure that you adhere to COVID-19 related instructions by central and local authorities.
For those new to eBird, read the brief description, and go through our detailed beginner's guide; create an account and start using eBird right away to get used to the platform.
If you have any queries, please email at [email protected]
To see the results of last year's count, see here.
Important: Keeping the pandemic in mind, please be careful if you are planning any outdoor birding trips. Please do follow local health guidelines, and bird mindfully.
---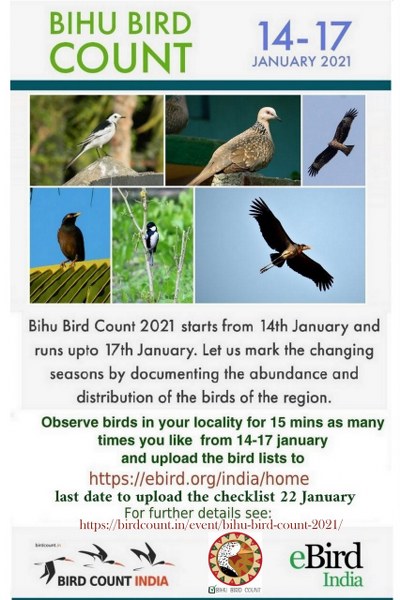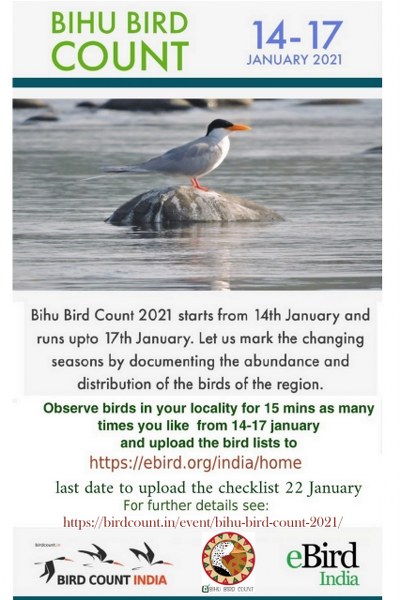 Posters created by Vivek Chetry and Pranjal Mahananda
BBC featured in newsfile online.
Prof Hilloljyoti Singha on BBC

Prof Dhrubajyoti Saikia on BBC

Dr. Suhel Quader on BBC
https://birdcount.in/wp-login.php
Praveen J on BBC

Kopil Bora on BBC

Arghadeep Baruah on BBC

Joi Barua on BBC

Videos created by Sudeshna Gupta
---
Header Image: Gadwall Mareca strepera ©Vinoba Anand/ Macaulay Library