This is the third quiz in the series of Endemic Bird Quizzes that lead up to the Endemic Bird Day.
Time's up for submissions to Quiz 2 and we are pleased to announce that 27 of you got it right! The bird in question was the Painted Francolin. This subcontinental endemic ranges from its stronghold in central India to the southernmost tip of Sri Lanka. As the frequency graph showed, these shy terrestrial birds are best seen in the monsoons, when the males advertise for mates by calling from a visible perch.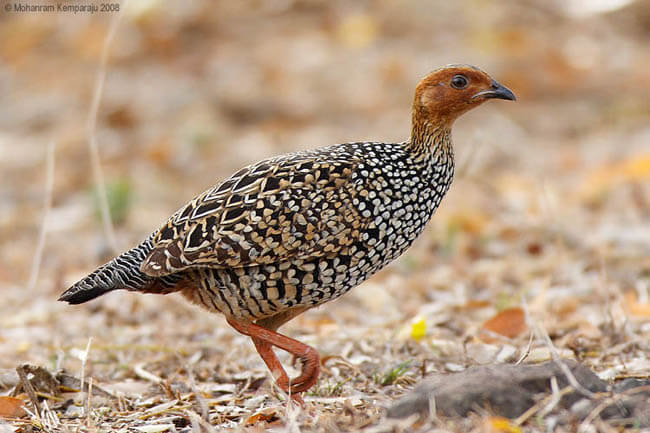 Painted Francolin – male © Mohanram Kemparaju
Correct answers for Quiz 2 were given by: Aditya Nayak, Amitayu Dey, Ashwin Mohan, Biswajit Chakdar, Gautam Bandyopadhyay, Kavi Nanda, Komal Agrawal, Kulbhushansingh, Manjula Ravi, Maulik Veru, Mohith Unny, Nimish Subramaniam, Pratiksha Kothule, Ritobroto Chanda, Rohit Chakravarty, Sathya Chandra Sagar H S, Savithri Singh, Shanmugan Kalidass, Sharang Satish, Shashwat Jaiswal, Syed Muzamil, Vaidehi Gunjal, Vidhya Sundar, Vinay Bharadwaj, Vinoba, Vishnupriya S, Vivek Puliyeri
---
But now it is time for Quiz 3 and this one is a little different. Given below are 5 maps which give the ranges for some of India's most range-restricted endemics. Based on these maps – can you guess what these 5 Indian endemics are?
(All maps are sourced from eBird India.)
Fill your answers below:
In case the above form does not work, you can also submit answers in this form.
The correct answer to this quiz will be revealed on 21 April 2016 at 1700hrs, and the next question published!
For now, it's time to test your knowledge again and figure out what birds we are talking about!