Saturday 14 May was a great success as Endemic Bird Day in India, with 204 birders uploading 592 lists to eBird – more than 13,000 bird observations! A total of 449 different species were recorded, and this was 56% of the 225 endemics that occur in South Asia.
(Figures based on lists uploaded by 17 May 2016 – some lists are known to be outstanding, particularly from remote areas of the northeast, and hence are not included here.)
The most commonly encountered endemics, as well as the 22 with just a single record, are shown below. Interestingly the top 5 are exactly the same species as during last year's Endemic Bird Day, in the same order except for White-cheeked Barbet dropping down to 5th from 1st.
Species
Observations
1
 Ashy Prinia Prinia socialis
198 (33%)
2
 Jungle Babbler Turdoides striata
142 (24%)
3
 Indian Robin Copsychus fulicatus
138 (23%)
4
 Indian Peafowl Pavo cristatus
127 (21%)
5
 White-cheeked Barbet Psilopogon viridis
104 (18%)
…
Andaman Coucal Centropus andamanensis
1
Andaman Cuckoo-Dove Macropygia rufipennis
1
Andaman Drongo Dicrurus andamanensis
1
Andaman Green-Pigeon Treron chloropterus
1
Andaman Scops-Owl Otus balli
1
Andaman Treepie Dendrocitta bayleii
1
Andaman Woodpecker Dryocopus hodgei
1
Bristled Grassbird Chaetornis striata
1
Broad-tailed Grassbird Schoenicola platyurus
1
Forest Owlet Athene blewitti
1
Himalayan Woodpecker Dendrocopos himalayensis
1
Hume's Hawk-Owl Ninox obscura
1
Indian Grassbird (Rufous-rumped Grassbird) Graminicola bengalensis
1
Indian Spotted-Creeper Salpornis spilonotus
1
Rufous-bellied Shortwing (Nilgiri Blue Robin) Brachypteryx major
1
Slender-billed Babbler Turdoides longirostris
1
Spot-winged Starling Saroglossa spiloptera
1
Swamp Francolin Francolinus gularis
1
Sykes's Lark (Tawny Lark) Galerida deva
1
Western Crowned Leaf Warbler Phylloscopus occipitalis
1
White-headed Starling Sturnia erythropygia
1
White-rumped Needletail (White-rumped Spinetail) Zoonavena sylvatica
1
There are two regions in India, namely the Eastern Himalayas and the Western Ghats, that feature as globally recognised biodiversity hotspots, with significant endemism. It is no surprise therefore that generally observers who recorded the highest number of endemic species were birding in these areas. The most endemics recorded by a single observer was 33 by Aravind Amirtharaj, with Dayani Chakravarthy and Ajay Gadikar managing 30, and TR Shankar Raman, Pooja Pawar and Divya Mudappa recording 29. With the exception of Ajay whose impressive endemic total was from Satpura National Park, the other birders were birding in the endemic-rich Anaimalai Hills in the Western Ghats.
In Delhi 190 species were recorded from the Summer Bird Count.
Global Big Day
Endemic Bird Day coincided with the Global Big Day, a worldwide effort to document as many species as possible in a single 24-hour period. A total of 6,226 species were recorded by more than 15,000 birders from 144 countries – a new record for the most bird species reported in a single day! The 449 species recorded in India makes us the 12th largest participating country, and we are 7th based on the number of checklists (557 of more than 42,000, or 1.3% – 68% were from the USA!). With the heat of May, and the fact that many of our migrants have departed, this is very impressive when you consider the date is prime migration time in many other countries worldwide with more hospitable climates!
So congratulations to all who took part, and do try to keep eBirding during the rest of the summer and monsoon months!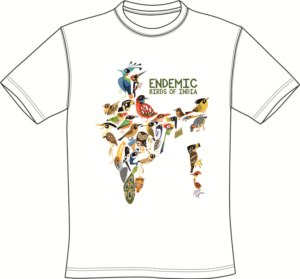 Quiz Results
There were 10 people who managed to get 9 or 10 Endemic Bird Quiz questions correct. Many congratulations to them for showing such great knowledge of Indian Birds, and persistence to get through the full quiz!
Aditya Nayak, Amitayu Dey, Ashwin Mohan, Biswajit Chakdar, Kavi Nanda, Komal Agrawal, Manjula Ravi, Maulik Varu, Savithri Singh, Vivek Puliyeri
We will be contacting you all shortly to send you a specially produced Endemic Birds T-shirt, featuring the artwork by Rohan Chakravarty. These T-shirts will be on general sale thereafter – watch this space for more details!
---
Header Image: Nilgiri Sholakili Sholicola major © Renuka Vijayaraghavan/ Macaulay Library