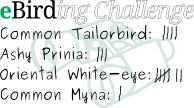 In contrast to earlier challenges, which have largely been about how much effort we put into birding, December's challenge was about birding in the company of others, and then 'sharing' our eBird lists with them. The target was to have at least 20 'shared' lists

during the month.
The purpose of the challenge was to share the joys of birding (in person), and encourage our birding friends to begin to log their sightings on eBird too.
To begin, here is an overall look at what happened during the month in India. The number of complete, effort-based lists of at least 15 min duration in December was 2,481. Typically, a few hundred lists are entered with a bit of a lag, so this number will go up somewhat. In all, 364 birders uploaded 3,012 lists of all types from December, together accounting for 68,188 records.
As for the December challenge, 443 birding trips involving 163 birders were 'shared' with more than one other person. Most shared lists were shared between two people (75.4% of shared lists), and only 9 lists in all were shared among 5 or more people. We often go birding in large groups, so would expect to see more lists shared among large numbers of birders!
In all, 11 eBirders met or exceeded the target of 20 'shared' eligible lists. They are:
Anish Aravind
Erle Brito
Ganeshwar S V
Glenda Brito
Harikrishnan Surendran
Panchapakesan Jeganathan
Premchand Reghuvaran
Pronoy Baidya
Swati Sidhu
T R Shankar Raman
Vivek Puliyeri
Many congratulations to all of them!
One of these 11 was chosen using a computer-generated random number to receive a small gift, and that person is
Harikrishnan Surendran
who receives a copy of Simon Barnes's How to be a (Bad) Birdwatcher: To the Greater Glory of Life. (You can read a review here.)
Here is the full list of all 364 contributors from December 2014:
Aarohi O-Campus, Aasheesh Pittie, abhijeet  avate, abhijith a.p.c, Abhijith surendran, Abhirami-Niranjana C, Abhiram V Rajandekar, Abhishek Deshpande, Abhishek Juneja, Able Lawrence, Aditya Puntambekar,  Aidan & Savio Fonseca, Alisha Shah, Alkesh Thakare, Amol Lopes, André Weiss Pryde, Anil  Mahajan, anil subramaniam, Animesh Mishra, anisha jayadevan, Anish Aravind, Anish Mohan Thampi, Anjali J, Anjana Mohandas, Anjitha Devarajan, Anoop CR, anshuman sarkar, ANUPAM MUKHERJEE, Anwar Sadath, Arathy S Kumar, Aravind AM, Aravind Sridharan, Ardra B, Aristo Mendis, Arjun Kodoth, Arnab Raychoudhury, Arnold Goveas, Arpit Deomurari, Arun Jeeva, arun  lal, ARUNSANKAR N, Aryas Home, Arya Vinod, Ashish Gupta, ashok raj v m, Ashutosh Singh, Ashwin Gokhale, Ashwin Warudkar, Athira K Nair, BAHAR BAVISKAR, Balwant Negi, Bela Arora, Bhagyashree Ingle, Bhakti Salgaonkar, Bhalchandra Pujari, Bharath R K, Bhaskar Chavan, Bhaskar Jyoti Kalita, Bheemaneni Bhanu Prakash, bhupesh virle, Bimalnath Punnassery, Binod Borah, Bird Sonic, BSAP GroupAccount, Castro Karthi, Chandrahas Kolhatkar, Chandra Sekhar Bandi, Charutha K, Chi-Lien Hsueh, Chinmay Rahane, chithrabhanu pakaravoor, Chris Bowden, Cinoby Joseph Kanattu, Conrad Pinto, david stanton, Dawn  Knopf, Deepak Balasubramanian, Deepak Jois, Deepa Mohan, Devi Ambika.S, Dhananjai Mohan, Dhananjay Patil, Dhanesh  Ayyappan, Dharmaraj Patil, Digvijay Avate, dilip kg, dineshbharath kv, Dinesh Shenoy, dipak bowalkar, Dipak Bowalkar, Divya Mudappa, divya srivastava, Donnie R. Dann, Doug Johnston, Dr Anoop R, Dr George P J, Edmond Holroyd, Enakshi Bhattacharya, Erle Brito, Farhad P, Ganeshwar  S V, Garima Bhatia, Geetha Ramaswami, Geoff Cattrall, George Tom, Girish Jahtar, Glenda Brito, Gnanaskandan Kesavabharathi, Gowthama Poludasu, G Parameswaran, Harikrishnan Surendran, hari kumar, HARI MAVELIKARA, HARSHADA GAUNS, Harsha Jayaramaiah, harsha nr, Hemant Dhadnekar, hemanth joshy, hemraj duraiswami, Himansh Pahwa, Hitesh  Kumar .J, Hrishikesh Karandikar, Humayun Taher, induchoodan sreedharan amalath, Janhvi Vyas, Jayakrishnan U, Jayant  Wadatkar, Jaydev Mandal, Jayesh Ghanekar, Jessica Luis, Jinesh P S, Jithin Johnson, John Dicken, Johnny Jacob, JOMY VARGHESE, Jyothish Nelson, Kalyan Varma, Karan Tambe, Kaustubh Rau, Kavita Isvaran, Kiran bagade, kiran more, Komal Matieda, Krishnadas Mallya, Krishna Girish, Krishnamoorthy Muthirulan, Kulbhushansingh Suryawanshi, Kunal Joshi, Lakshmi.P Ajith, Lawrence Mathappan, Lloyd Fernandes, Lulua Ahsan, Maanav Jalan, Madhurima Das, madhushri mudke, MAITREYA SUKUMAR, Manan Singh Mahadev, Mandar  Bhagat, Manish  Kumar, Manju Sinha, Manoj Karingamadathil, Manoj Nair, manoj p g, Maulik Varu, Mayuresh Joshi, M D Madhusudan, megha phadkay, Michael Press, Mihir Joshi, Mike Prince, Milan Sojitra, Mittal Gala, m m r, Mohan Raj K., Mohanram Kemparaju, Mohith Shenoy, Monica Kaushik, Morgan Little, Mu-Chi Tsai, Munmun Dhalaria, Murali DC, Muthukumaran Balasubramanian, Muthu Narayanan, Nandana prasanth, Nandkishor Dudhe, Naveen  Joseph, Neha Waikar, Nihar Madkaiker, Nikolaj Thomsen, Nimish  Kane, Niranjana C, Nirmal Gourav Das, Nishant Shah, Nishit Soni, omkar naik, om prakash, Panchapakesan Jeganathan, PANKAJ KOPARDE, paramita mazumdar, Patrick David, Pavan Patel, Payal Mehta, Phil Walton, Prabhakar Sastri, Prachi  Mehta, PRADEEP KUMAR V B, Prakash G, praphul gopal, Prasanna Parab, PRASANTH S, PRASHANTHA KRISHNA M C, Prashanth NS, Prashant Tewari, Pratap Singh, Pratik Purohit, Praveen J, praveen Rao koli, Premchand Reghuvaran, Pritam Baruah, Pronoy Baidya, Raghurama Hegde, Rahul Vartak, Rajaram A, Raja Simma Pandiyan, Rajesh Balakrishnan, Rajesh  Kalra, rajesh nayak, Rajgopal Patil, Rajiv D'Silva, Rajneesh Suvarna, Raju Kasambe, Raman Kumar, Ramesh Desai, Ramit Singal, RANGARAJA PRABHU K S, Rangasamy Muthusamy, raphy kallettumkara, Ratnesh Mathur, Ravi Jambhekar, Razan ali, renju tr, RESHMA  BHAT, Ribish Thomas, rithik jayan  ak, Ritushree Jain, Rohan Chakravarty, Rohit Chakravarty, Rohit Jha, Ronit Dutta, ronny augustine, Roshan  Kamath, SACHIN KRISHNA M V, Sachin Shurpali, Sagar Adhurya, sahana m, Samar Gupta, Sameer Sohoni, Samrat Salve, Samyak Kaninde, Samyukth Sridharan, Saneesh  C S, Sanjay Karanth, Sanjay Thakur, Santharam V, santhosh kumar, Sapna Jayaraman, sarayu ramakrishnan, Saroj Kumar Mishra, Sastha Prakash, Satheesh Pullippadam, Sathvik Reddy Nimma, Satish Ranadive, Saurabh Jawanjal, Savithri Singh, Shah Jahan, Shanmukharaja Muroor, Sharan V, sharath  ram, Shariq Khan, Shashank Birla, SHEKHAR BOPARDIKAR, SHESHGIRI BAGDE, Shireesh Dharap, Shishir Rao, Shivaprakash Adavanne, Shivashankar Manjunatha, shobita asthana, Shubhadeep  Mukherjee, Shubham Gautam, shubhankar patra, Siddharth  Bharadwaj, Siddhesh Surve, Simon Thompson, Simon Tickle, Sivakumar AK, Sivakumar Swaminathan, skanda sn, Snehasis Sinha, Sohini Dudhat, Soma Ateesh, somoyita sur, Soni Nambiar, soumya mukherjee, Sreejith P, S R  Gopalan, Sridharan j, Srinivasa Shenoy, Stephen Rush (wildrossendale.co.uk), Subin Sudheendran, Subramanean Janakiraman, Subramanian  Sankar, sudhakaran kk, Sudip Ghosh, Suguna   R, suhail parayil, Suhel Quader, Sumesh  b, Sumin George, Surendhar Boobalan, Suresh  Rana, Swati Sidhu, Syed Muzamil, Tallulah D'Silva, tanuja dasharath haunsbhavi, Tanya Seshadri, TheNatureTrust (GroupAccount), Thomas Job, Thorkild Michaelsen, TKS Thathachari, Toby Austin, Todd Watkins, Tony Gaston, T R Shankar Raman, ts prasanth, Uday Sant, Udiyaman Shukla, Varun Kher, vedant kumbhar, Venkatesh Prasad, Vignesh Menon, Vignesh .P Ajith, Vijaya Lakshmi, vijay kumar, Vijay Kumar, Vikas madhav nagarajan Madhav, Vinoba Anand, vinod k, Viola Rodrigues, viral joshi, Vishal D, Vishnupriyan Kartha, Vishwatej Pawar, Vivek Chandran, Vivek George, Vivek Govind Kumar, Vivek Puliyeri, Vridhi Rajan, Wahiba Humam, WECS Amravati, William Gerling, Yagnesh Desai, Yogesh Parashar, Zenobia Driver.
Now on to the next eBirding challenges: for January 2015, and for the entire year of 2015!