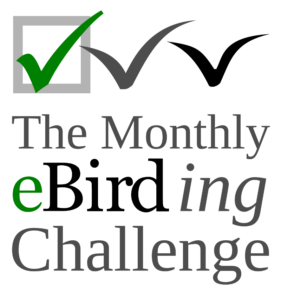 In the closing month of the year, the challenge was to do a last sprint and upload as many birdlists as you could; and to document the sightings, where possible, with photos, sound recordings and video. What transpired? Here is a break-up of eBirding in India in December (with previous month in brackets):
Number of birders: 750 (820)
Number of lists (all types): 6,700 (6,700)
Number of lists (eligible only): 5,500 (5,600)
Number of observations: 1.4 lakh (1.4 lakh)
Of the 750 eBirders in December,  75 met or exceeded the target of 15 eligible lists! These are depicted in the picture below, where the size of a person's name is proportional to the number of eligible lists uploaded in December. The maximum number of such lists by one person? A massive 412, by Ganeshwar SV, who spent over 100 hours birding in December! Here is the wordcloud (as always, excluding group accounts).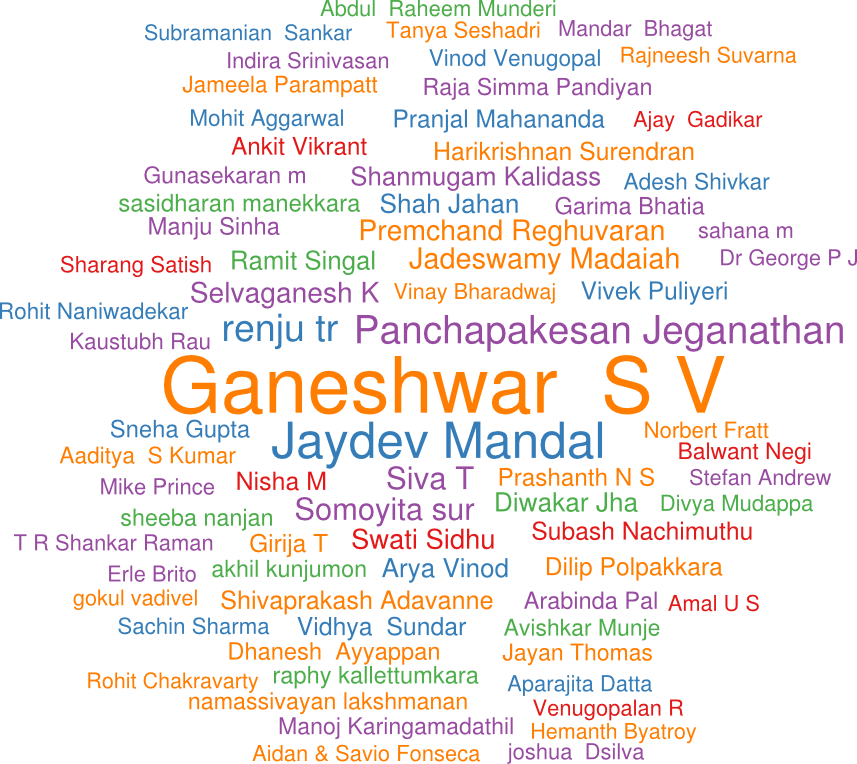 Many congratulations to all of them!
Collectively, these 75 eBirders uploaded 2,300 complete lists in December. From these lists, we chose, at random, one list after another, until we found a list with embedded media. This list is linked here, and was uploaded by
Diwakar Jha
who receives a copy of How to be a (bad) birdwatcher by Simon Barnes. (You can read reviews here and here.)
Here is the full list of all 750 eBirders from December 2015:
Aaditya S Kumar, Aaqid Mukhdoomi, Aaron Maizlish, Aarthi Ravindra, Abdul Raheem Munderi, abha manohark, Abhijeet Sable, abhijith a.p.c, Abhijith surendran, Abhik Das, Abhilash Arjunan, ABHILASH RAVINDRAN, Abhimanyu Lele, Abhinand C, Abhirami C, Abhisheka Krishnagopal, Abhishek Gulshan, Abhishek Maiya, abhishek ravindra, Abhishek Shroti, Able Lawrence, Abu Clicks, Adesh Shivkar, Adesh Shivkar , Adithya Bhat, Aditya Aravind, Afshan Husain, Afthab Faisal k, Aidan & Savio Fonseca, Ajay Gadikar, Ajinkya Supekar, Akhil Krishnan, akhil kunjumon, Akshay Mokal, Akshay Surendra, Al Ameen Ameen, Albin Jacob, Albin Jose, Alkesh Thakare, Allama S, Alok Marathe, Amal U S, AM AMSA, AMARESH MURTHIRAJU, Ameet Mandavia, Amelia Dungan, Amish Parekh, Amit Ghosh, Amit Kumar, Amit Thakor, Amlan Mitra, Amol Bapat, Amol Lopes, Amol Marathe, Amrita Singh, Anagha Bagade, ANAND Osuri, ANAND PALANI, Anand Sundaram, André Weiss Pryde, Aneesh Sasidevan, ANEESH SREEKUMAR , Anil Mahajan, anil subramaniam, Anish Aravind, Anish Mohan Thampi, Anjali J, anjana hari, Ankit Shukla, Ankit Vikrant, Anoop CR, Anoop King, anshuman sarkar, Anubhab Hota, Anuj Saikia, Anupam Khanna, Anurag Chandak, Anurag Chhajlani, Anurag Vishwakarma, Anvay Dhanorkar, Aparajita Datta, Aparna K, APITHA NAMASSIVAYAN, Appavu Pavendhan, Arabinda Pal, aravinda hr, Aravind AM, Aravind Balagopalan, Aravindh Soundararajan, Archisman Mahapatra, Arijit Mondal, Arjun Dev , Arjun Kannan, Arnab Pal, Arnold Goveas, Arsha K, Aruna Ramachandran, Arun Bhaskaran, Arun Kumar Mathivaanan, arun lal, ARUNSANKAR N, Arun Visweswaran, Arvind Patole, Arya Vinod, Ashish Jha, Ash J, Ashni Dhawale, ASHOK MADHAVAN, ashok raj v m, Ashraf Nalsarovar, Ashritha Anoop, Ashutosh Singh, Ashwin Warudkar, Atharva Damle, Athira K Nair, Athul P M, Atindra Katti, Avishkar Munje, Balaji P B, Balwant Negi, Bela Arora, Benny Kurian, Beth Partin, Bhagyashree Ingle, Bhakti Salgaonkar, Bhalachandra Shirolkar, Bhalchandra Pujari, Bhanu Prakash, Bhaskar Kulkarni, Bhaskar pandeti, BHAVIK PARIKH, Bhushan Kaluskar, Bibhu Prasad Panda, bijumon ke, Bird Snappers, BISWAJIT GHOSH, Biswanath Mondal, Biswapriya Rahut, bulbul muruges, Chandrasekaran Venkatraman, Chandra Sekhar Bandi, Chandra Shekara, charles naveen, Chayant Gonsalves, Cheran Jagadeesan, Chethan GS, Chetna Sharma, Chinmay Rahane, Chirag Munje, chithrabhanu pakaravoor, Chris Bowden, Cinchona GHS(Group account), CLAREENA JOSE, CNS Nature, Colin Braganza, Conrad Braganza, Conrad Pinto, darbjot singh, Dave Read, David Raju, david stanton, Debabrata Parida, Deepak Apte, Deepak Pradhan, Deepa Mohan, deepa vellai, Devinder Singh Dhadwal, devi s r, Dhananjai Mohan, dhananjay gutte, Dhanapal Dhandapani, Dhanesh Ayyappan, Dhaval Vargiya, Dheeraj Chavadi, dhirendra holikar, Dhruvam Desai, Dhruvaraj S, diksha satarkar, Dilan Mandanna, dilip kg, Dilip Polpakkara, Dinesh kumar Rajendran, Dinesh Pundir, dipak bowalkar, Dipu Karuthedathu, Divya Mudappa, Divyesh Ghervada, Diwakar Jha, Diwakar Tirmare, Dr Birju Patel, Dr George P J, Dr. Ravi M, Duraiswamy Navaneetham, Emanuel george , Eric Peterson, Erle Brito, EVA HANSDAK, Ezhupunna Birders, Fareed Mohmed, Firoz Hussain, Gajanan Wagh, Ganesh R Mandavkar, Ganeshwar S V, Garima Bhatia, Gaurang Bagda, Gaurav Nalkur, Geetanjali Dhar, Geetha Venkataraman, Ginu George, gireesan tu, Gireesh Pallikkara, Girija T, Girish Jathar, Gitanjali Katlam, Gnanaskandan Kesavabharathi, Gokul Krishna, gokul vadivel, GOVIND GIRIJA, G Parameswaran, gracy michael, Graham B Langley, Great Indian Birding Trip, greeshma paleeri, gregg muller, Guhan Sundar, Gunasekaran m, gurmeet singh, Hakimuddin F Saify, HANNA THOMAS, Hanuman Gawas, hardik kalavadiya, Hardik Pala, Hari Krishna Adepu, Harikrishnan Surendran, hari kumar, HARI MAVELIKARA, HARISHA M Nijavalli, HARITHA KRISHNAN, Harsha Jayaramaiah, Harshith JV, Hemant Dhadnekar, Hemanth Byatroy, Hemant Kirola, Hemanya Radadia, hemraj duraiswami, Hiren Patel, HISHAM ASHRAF, Hopeland P, Hrishikesh Wandrekar, Hsiangju Chang, Indira Srinivasan, induchoodan sreedharan amalath, Intesar Suhail, Ishaan Shah, Jadeswamy Madaiah, Jagdish Dhalaria, Jameela Parampatt, JANAK SAHASRABUDHE, Jasbir Randhawa, Jayadev Menon, Jaya krishnan VK,IFS, Jayan Thomas, Jayant Wadatkar, Jayasankar Subramanian, Jaydev Mandal, Jayesh Ghanekar, Jay V, Jeremy Bowman, Jignesh Kalavadiya, Jinesh P S, Jishnu R, jithesh pai, Jithin Johnson, Job Joseph, Johnny Jacob, John Ogden, JOSE RANI BABU, joshua Dsilva, Jyothish Nelson, Jyoti Hiremath, Kaajal Dasgupta, Kailash Prasad, Kalaimani Ayuthavel , Kaleeswari Sivasubramanian, Kalpana Baviskar, Kalyan Varma, Kanwarjit Singh, Karan Kalsi, Karan Tambe, karma sonam, Karthik Athreyas, Karthik Enumulla, Karthikeyan G B, Karthik Teegalapalli, Kathiresh D, Kaustubh Rau, Kavi Nanda, Kenneth Augustine, Ketki Marthak, Khaleel Chovva, Kingshuk Mondal, Kiran bagade, kiran more, Kirti Wani, Kishore Bhargava, Komal Agrawal, Krishna Deepak, krishnajith jayamani, Krishna Mathur, Krishnamoorthy Muthirulan, Krishnaveni K, K.Sravan Kumar, Kulbhushansingh Suryawanshi, Kumar RR, Kunal Joshi, Lekshmi Bhooshan, Lekshmi Jayakumar, Leo Joseph, LIKITH A, Lloyd Fernandes, Macson D Almeida, Madhab Dash, Madhumathi Sundara Raghavan, Madhurima Das, Madhu Varadaraj, Magesh Ram, Mahesh madhu, maheswari j.m., MAITREYA SUKUMAR, Malyasri Bhattacharya, mamta s, Manan Singh Mahadev, Manas Sharma, Manaswini Ghosal, Manav Sajan, Mandar Bhagat, Mandar Khadilkar, Mangirish Dharwadkar, Manjula Ravi, Manjunath R S, Manju Sethi, Manju Sinha, Manohara Kamath, Manoj Karingamadathil, Manoj Pankajakshan Nair, Manoj Soman, Manu Mengi, Manu pradeep, Marvelyn Dias, Maulik Varu, MAXIM RODRIGUES K, M D Madhusudan, Md Shafi, Mihir Barve, mihir joshi, Mike Prince, Mili Patel, Misha Bansal, Mittal Gala, Mohan K Pillai, Mohan Raj K., Mohanraj T, Mohit Aggarwal, mohit Hardikar, Mohith Shenoy, Mohit Mehta, Mohit Sahu, Monica Kaushik, mujeeb pm, Mukundan Kizhakkemadham, Mulagala Srinivas, Murtuza Hussain Abrar, Muthu Narayanan, Nabarun Sadhya, Nagappan R, Nagendra Nayak, Naidu Kumpatla, Naman Goyal, namassivayan lakshmanan, Nandhakumar Radhakrishnan, Narayan Sharma, NARENDRA UPADHYAYA, naseer parayil, Nayantara Lakshman, Neelesh Pant, Neeraj Amarnani, Neeraj Joshi, NE India 2005, Nelson George, Nevil Jose, Nigil Haroon, Nihar Madkaiker, Niketan Kasare, Niket Patil, Nilesh Bhanage, Ninad Hiremath, Ninad Raote, Niranjan A, Niranjan Raj, Nisha M, Nishant Shah, Nishigandha Pednekar, nishith Kumar, Nishit Soni, Nitin Madan, Nivedita Kotharé, Noah Strycker, Norbert Fratt, Nosherwan Sethna, omkar adhikari, Omkar Dharwadkar, omkar naik, padmakar pimpalkar, Padmanav Kundu, palanisamy sakthivel, Pallavi Shivalkar, Pam Rasmussen, Panchapakesan Jeganathan, PANKAJ GUPTA, paramita mazumdar, paresh gosavi, Parikshit Khisty, PARTH PARIKH, Parvaiz Shagoo, PARVATHY AS, Patrick David, Paul Taillie, Pavithra Sankaran, Pawan Dhall, P. B. Samkumar, Peroth Balakrishnan, Phani krishna Ravi, Polly Poulose, Poojan Gohil, pooja pawar, Pooja Rathod, Prachi Mehta, PRADEEP KUMAR V B, pradeep Rana, Pradeep Sangwan, Prafulla Sawarkar, Prajval Shastri, prajyot palave, Prakash G, Prakhar Krishan, Pramod Dhal, Pranav Deo, Pranav Jalan, Pranav More, Pranav Vaghashiya, Pranjal Mahananda, Prasad Ganpule, Prasanna Gautam, Prasanna Parab, prashant bhagat, Prashanth N S, Prashant Kumar, Prashant Pimpalnerkar, Prashant Srivastava, Prashant Tewari, Pratap Singh, Prathamesh Desai, Prathamesh D Tiwari, Prathima Chennakesavula, Pratik Humnabadkar, Pratiksha Kothule, Praveen es, Praveen J, Praveen Kumar, Praveen Manivannan, Premchand Reghuvaran, Prem Prakash Garg, Pritam Baruah, Priyadarshini K, Priyanka Justa, Pronoy Baidya, Pune City Bird Atlas, Pushkar Chaubal, Pushpa P, Qazi Hammad Mueen Qari, Raaj Bora, Raghavendra Mukundarao, Raghavendra S N, Raghubir Prasad, Raghu Nathan, Raghunath Iyer , Raghurama Hegde, Rahul Matmari, rahul narlanka, Rahul Poral, Rahul Wakare, Rajan KC, Rajarajan V, Raja Simma Pandiyan, Rajat Rastogi, Rajeev khandelwal, Rajendra Gadgil, Rajesh Balakrishnan, Rajesh Kalra, rajesh nayak, Rajesh Panwar, rajesh poojary, Rajgopal Patil, Rajneesh Suvarna, Raju Kasambe, Rakesh Kalva, Rama Neelamegam, ramanjinaiah v kolar, Raman Kumar, Ramesh Desai, Ramesh Sannaci, Ramit Singal, raphy kallettumkara, Rashmi B, raveendran kc, Raveendran Natarajan, Ravi Kailas, Ravinder Singh, Raviprakash KB, REEF RCOEM, Regin George, Renie Thomas, renju tr, renuka Vijayaraghavan, Ribish Thomas, Rigzen Dorjay, rima dhillon, Rinchen Tobge, Rinto Abraham, Ritesh Dighe, Ritobroto Chanda, Riyan Konkath, Rohan Chakravarty, Rohidas Revankar, Rohikanta Sijagurumayum, Rohit Chakravarty, Rohit Hirway, Rohith Nareddy , Rohit Jha, Rohit Naniwadekar, Romi garga, Ronit Dutta, Roshan Kamath, Rouf Sadiq Tantray, Rudraksha Chodankar, Rushil Fernandes, Sabarish kumar, Sachin Main, sachin sambhaji, Sachin Sharma, Sagar Adhurya, sahana m, Saiyam Nagar, sakthi manickam, SALINI SALU, Sam Bhagat, Samrat Salve, Samyak Kaninde, Samyukth Sridharan, SANCHARI BISWAS, Sandeep Bapat, Sandeep Krishna Das, Sandeep Sakhare, Saneesh C S, sanjay agamamidi, Sanjay Karanth, SANJEEV NALAVADE, Sanket Dharashivkar, Santharam V, santhosh kumar, Santosh Mahalik, Sarath Champati, Sarath Chandran, Sartaj Ghuman, Sashi Kumar, sasidharan manekkara, Satheesan K V, Sathya Chandra Sagar H S, Sathyan Meppayur, satish siwatch, Satypal Singh, Saurabh Hatwar, Saurabh Sawant, Saurav Dwari, SAYLI SAWANT, Selvaganesh K, SELVARAJAN V, senthilkumar c, Shah Jahan, Shanmugam Kalidass, shanmugam saravanan, Shanmukharaja Muroor, shantilal Varu, Sharad Apte, Sharadkumar Bhatt, Sharang Satish, Shardul Joshi, Shariq Khan, sharvari paranjape, Shashank Birla, Shashank Kela, Shashikantha Koudur, Shashikant S. Naik, sheeba nanjan, SHESHGIRI BAGDE, Shireesh Dharap, shishir shendokar, Shishupala S, Shivakumar M, Shivanand Divekar, Shivaprakash Adavanne, Shivashankar Manjunatha, Shivi Mishra, shobita asthana, shreekrushna kore, Shree padmini k, Shreya Yadav, Shridhar Iyer, Shrikanth nayak, Shriom Manerker, Shweta Golani, Siddhesh Poyarekar, silambarasan s, Sivakumar SS, Sivakumar Swaminathan, Sivashankar Ramachandran, Siva T, skanda sn, Sneha Gupta, Snehasis Sinha, soham brahmbhatt, Soham Sinha, Somashekhar Kulkarni, Somoyita sur, Somraj Gupta, Soni Nambiar, Sourav Dinda, S. Prithivi Raj., Sreekumar E R, Sreekumar PK, Srinath Reddy, Srinivasa Shenoy, Sriram Reddy, S S Cheema, SS prasanth, Stefan Andrew, steffin babu, Subash Nachimuthu, Subbu Rajan, Subhajit Chaudhuri, Subhashini Sivasubramanian, Subin Sudheendran, Subramanian Sankar, Subramniam Venkatramani, sudhakaran kk, Sudip Ghosh, Suhel Quader, SUJAN CHATTERJEE, Sujay Soman, Suman Roy, Sumanta Pramanick, Sumesh b, Sundaravel Palanivelu, Sundar Lakshmanan, sunil kumar, Sunil Pandey, Suniti Bhushan Datta, Surendhar Boobalan, Suresh AC, Suresh Rana, Surya Prakash, Susrut Ray, Susy Varughese, Swapan Banik, Swapna Lawrence, Swapna L John, swapnil naik, Swati Sidhu, Swetabh verma, Swetashree Purohit, SYAMILI MANOJ, syed ateeq, syed Mudassir, Syed Mustahsen, Syed Muzamil, Taksh Sangwan, Tanvi DG, Tanya Seshadri, Tapas Biswas, Tarachand Wanvari, Tarun Menon, Taukeer Alam Lodha, Tejas Vagadia, Teri Martine, Thakur Dinesh Singh, TheNatureTrust (GroupAccount), Thomas Falk, Thomas Job, tony antony, T R Shankar Raman, ts prasanth, Twisha Sangwan, Udaya Kumar Balasubramanian, Udiyaman Shukla, Ujwal Shankar, umar khan, Umesh Vaghela, Vaibhav Saigal, Vaidehi Gunjal, Varun Kher, Vedant Kumbhar, Velsina Rodrigues, Vena Kapoor, Venkatesh R, Venugopalan R, Vidhya Sundar, Vignesh Menon, Vijaya Lakshmi, vijay kumar, Vijay S, Vikram Penmetsa, Vinayak Vangapalli , Vinay Bharadwaj, Vinay Guruprasad, Vinay Patel, Vineeth Viswanath, Vinoba Anand, Vinod S, Vinod Venugopal, Vinuja S, Viral Pankaj, Vishal Acharya, Vishal & Sophia D, Vishal Varma, Vishambhar Agarwal , Vishnupriyan Kartha, Vishwatej Pawar, Vivek Chandran, Vivek Puliyeri, Vivek Tiwari, Vridhi Rajan, vrinda lath, wangdup bhutia, Yagnesh Desai, Yash Deshpande, Yogesh Badri, Yogesh Parashar, yogita kore, Young Birders Club Darbhanga, Yousaf Panichullathil
Are you doing your best to match the target for January (at least 5 Asian Waterbird Census counts)? And a new set of yearlong challenges for 2016 has been announced!