We are delighted to inform you that Bird Count India (BCI) has partnered with The Cornell Lab of Ornithology to provide free access to Birds of the World for anyone within India. Just login to your existing eBird/Cornell account, or create a new eBird/Cornell account to access Birds of the World for free!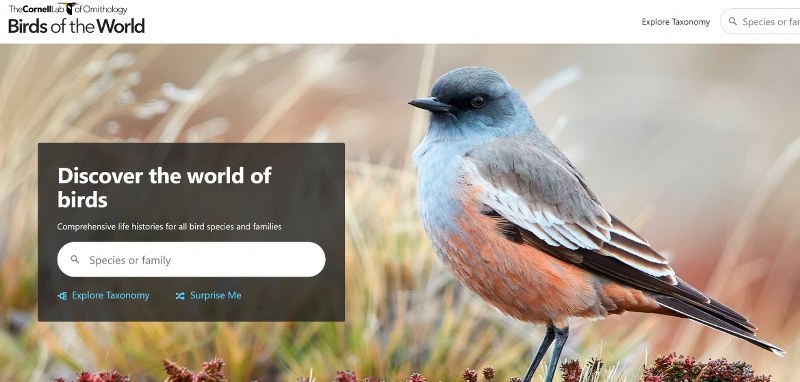 Birds of the World (BoW) is an online resource with comprehensive life history information on 10,721 species of the world's birds. BoW combines expert and published knowledge on birds together with information from eBird, The Macaulay Library, The Handbook of Birds of the World (HBW), and the Internet Bird Collection (IBC) among others to provide an in-depth account for every species. Some interesting features of a species account include detailed subspecific information (eg: White Wagtail, Bluethroat), distribution maps, and information on diet, behaviour, and breeding biology. Create an account and explore to find out more!
Also, try out the wonderful Avian Taxonomy Explorer feature within BoW which will take you to informative accounts of families and genera. So if you want to find out more about Phylloscopidae, the family that contains our beloved (and confusing) Leaf Warblers, you can read about it here.
Access in India is enabled by the efforts of a large number of expert birdwatchers and ornithologists across India who have volunteered to write and curate species accounts.
The list of active accounts (below) will continue to be updated as more articles are written, so make sure to check this space regularly!

Yellow-billed Babbler by Kulbushansingh Suryawanshi
Jungle Prinia by Anand Krishnan and Steve Madge
Banasura Laughingthrush by Praveen J.
Black-headed Jay by Tarun Menon
Rufous-fronted Prinia by Anand Krishnan
Sri Lanka Frogmouth by Ramit Singal
White-bellied Minivet by Kulbushansingh Suryawanshi 
Malabar Grey Hornbill by Divya Mudappa and T. R. Shankar Raman
Rufous-tailed Lark by Kulbushansingh Suryawanshi and Per Alström
White-tailed Iora by Prasad Ganpule
Malabar Barbet by Anand Krishnan
Brown-headed Barbet by Anand Krishnan
White-cheeked Barbet by Anand Krishnan
Nicobar Bulbul By Naman Goyal
Narcondam Hornbill by Rohit S. Naniwadekar
Lesser Fish-Eagle by Dipu Karuthedathu
Spectacled Finch by Puja Sharma
West Himalayan Bush Warbler by C. Abhinav
Indian Grassbird (Rufous-rumped Grassbird) by Anand Krishnan
Black-breasted Parrotbill by Anand Krishnan
Marsh Babbler by Anand Krishnan
Broad-tailed Grassbird by Anand Krishnan
Slender-billed Babbler by Anand Krishnan
White-browed Bushchat by Anand Krishnan
Swamp Grass Babbler by Anand Krishnan
Bristled Grassbird by Anand Krishnan
Nilgiri Laughingthrush (Revised) by Praveen J
Yellow-throated Bulbul by Ashish Jha
Cachar Bulbul by Vijay Anand Ismavel
Pink-headed Duck by Anand Krishnan