1. Please tell us something about yourself, where do you live and what do you do.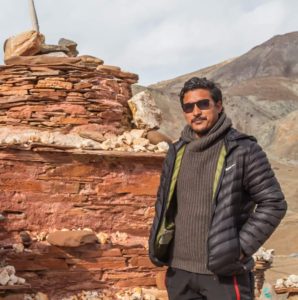 I live in Ladakh and I work for the Civil Supplies Department in Leh city. I am also involved with a non-profit organization called Wildlife Conservation and Birds Club Of Ladakh (WCBCL). This organization is a community based voluntary initiative started by a group of young and dynamic people, who are willing to take the lead in filling the gap in conservational activities in the Ladakh region. The club organises free birding trips for school and college students)
2. When and how did you get interested in birding? 
I first got fascinated with birds in 2012 when I was guiding a group of tourists from Holland on a trek in Ladakh. One person amongst the group would fall behind and was always the last to reach. I wondered why would a good hiker like him lag behind. Out of curiosity, I asked him and he said he was interested in looking at the birds. His answer made me ponder about what kind of birds one could find in these mountains. So, I did a bit of research and was surprised to learn that we have many species of birds in Ladakh. And also that many national and international birdwatchers, researchers, visit this place to watch and study them. This is how I started birding. And it further became a passion when I got involved with WCBCL in 2017.
3. Do you have a favourite bird or birds? Why is it/are they your favourite?
Well, every bird I see is my favorite but if I have to pick one then that would be the White-browed Tit-Warbler.  No matter how many times I see this bird, it would always feel like a lifer.
4. Where do you enjoy birding the most?  
I have never birded outside Ladakh yet, so I would say I enjoy birding in my village Spituk.
5. Do you have a birding partner or a group you enjoy birding with?  
Mostly I do birding alone but occasionally I also go with members of WCBCL. Personally, I prefer birding alone as you are more focused on the bird you are looking for. Nevertheless, birding in a group has its own benefits- you have more eyes and hence you spot more species. Moreover, birding in a group enhances my knowledge of a species through extensive discussions and I can remember the features of that bird the next time I am out birding.
6. Anything on the birding bucket list? (Doesn't have to be a bird, could be a place, witnessing a phenomenon, etc)
In Ladakh, I want to visit the Zanskar range. I am also enthralled by the birds of Nagaland and it's on my bucket list. Some birds from Nagaland that are high on my list are: Blyth's Tragopan, Long-tailed Wren-Babbler (Naga Wren-Babbler), Mountain Bamboo-Patridge
7. Has eBird changed how you bird? How? 
eBird has inspired me to go birding more regularly because when I see my name in the top eBirders list I feel good. It is heartening to know that my records (although small in number) could be helpful for future researchers/birders to study birds.
I can manage and maintain by bird observations, checklists; I can learn everything about different species of birds on one single platform. What more do you need?
8. Have you set any birding goals for the coming months? 
In the coming months, I wouldn't want anything more than to finish my target of 200 species from Ladakh and continue birding whenever possible.
9. What is your message for fellow birders? 
Keep birding and keep uploading your checklists in eBird. For the benefit of all birders and for science, I would request everyone birding out in the field to upload only if you are certain about the species identification so that genuine data can be recorded. I am lucky to have my wife as a constant supporter and thanks to her for encouraging me all the way.
Thank you and Julley from Leh, Ladakh.
Cover Image: White-winged Redstart © Sonam Choldan/ ML Library