Please tell us a bit about yourself. What do you do and where do you live? 
My name is Renju. I live in Alappuzha, Kerala, in a place called Ezhupunna and work in a private hospital in Kochi.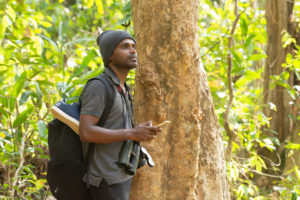 When and how did you get interested in birding? 
Since my childhood, I was interested in nature and wildlife. I seriously started bird watching back in 2014. It all started when I and my friend were visiting a nearby wetland called Changaram. Here, we met a birder with a pair of binoculars and a bird book- Birds of the Indian subcontinent by Richard Grimmet, Carol and Tim Inskipp. He let us use his binoculars to observe birds and that was how it started. His words inspired me to take my first step into the world of birdwatching. The very next day I saw a Spot-billed Pelican. That was a big find in during that time.
Do you have a favourite bird or birds? Why is it/are they your favourite?  
My favorite bird in our locality is the White-breasted Waterhen. Not only I find it beautiful but its also kind of secretive.
Where do you enjoy birding the most?  
My favorite birdwatching spot is
Changaram wetland
near my home. It is one of the top birding hotspots in Kerala. Currently, 198 species have been reported from this small area alone.
Do you have a birding partner or a group you enjoy birding with?  
We have a local birding group called
Birders Ezhupunna
and we often plan birding trips together.
Anything on the birding bucket list? (Doesn't have to be a bird, could be a place, witnessing a phenomenon, etc) 
Northeast India is one of the places in my bucket list and
Chestnut-headed Tesia
is my dream bird that I hope to see someday.
I would also love to explore the northwest part of India to watch birds.
Has eBird changed how you bird? How? 
Ebird is like a digital diary. It's so interesting and helpful to maintain observations.
Have you set any birding goals for the coming months? 
What is your message for fellow birders? 
Birding is the easiest path to explore the natural world. It helps one to learn about the habitats around them. A birder begins his/ her day with the hope of sighting new species or exploring new habitats. I hope the new generation of birders would not just observe birds, but act towards their conservation. Happy birding!