Monica Kaushik is an ardent birdwatcher from Delhi. She is also among the eBird reviewers of Uttarakhand. Here is more about Monica in her own words…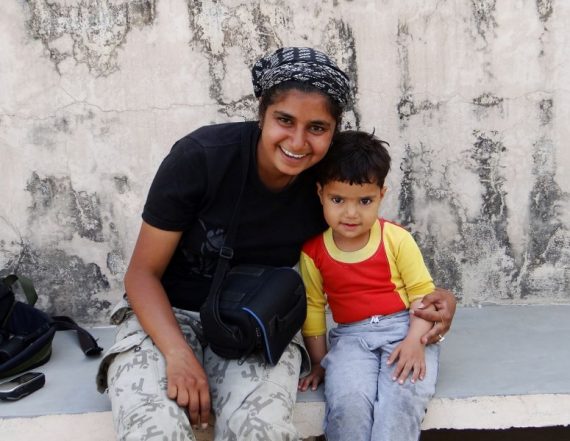 Please tell us a bit about yourself. What do you do and where do you live?
I am a visiting assistant professor at the School of Human Ecology, Ambedkar University Delhi. I was born and studied in Delhi. In 2009, I joined the Wildlife Institute of India (WII) in Dehradun and spent the best ten years of my life there carrying out my doctoral research and most importantly watching birds. I am now back in Delhi and living in the eastern part of the city, close to the river Yamuna.
When and how did you get interested in birding?
Being a graduate of Botany (Honours), I have always been fascinated by plants. I loved being outdoors collecting plant specimens and looking at the patterns of leaves and flowers intently for hours. I held binoculars in my hands for the first time during my master's in environmental biology but soon got frustrated as it triggered migraines while focusing on a small and fluttery Purple Sunbird. So to avoid migraine, even after master's I wanted to work on invasive plants and not on birds.  But the first assignment I took up after completing my Master's involved studying 'plant-bird interactions' in the amazing landscape of the Biligiri Rangaswamy Temple Tiger Reserve, Western Ghats with Dr. Ankila Hiremath (ATREE).  As my work revolved around the disruption of native seed dispersal mutualism by Lantana camara, I had to train myself for identifying the avian seed dispersers. So I started observing birds near my field station and gradually on the forest trails. I used to observe them feeding on the fruits of native trees, and Lantana camara, which was a very small fraction of the bird diversity of that region, and a rarely small fluttery bird would pay me a visit.
It was only in 2009 that I started birding regularly when I joined WII as a Junior Research Fellow to not study a small fraction but an entire bird community of the Sal (Shorea robusta) forest. I must confess that even the thought of identifying and counting birds for the next few years in the Sal forest was overwhelming and terrifying. However, the right mentoring by my Ph.D. supervisor and help from other researchers made me comfortable.
Do you have a favourite bird or birds? Why is it/are they your favourite?
This is a very difficult question and I don't think I can choose one or two species.  But a few species definitely have a special place.  While doing fieldwork for my doctoral research, especially during the hot sunny days in tropical deciduous forest, the laughter of White-crested Laughingthrushes used to bring an instant smile to my and my field assistant's face. A favourite group of birds is definitely the cuckoos (from melodious Common Cuckoo to somewhat insistent Common Hawk-Cuckoo) which mark the onset of the summer season in the Himalayan foothills. I am very fond of the chatter of Puff-throated Babblers, they sound like they are gossiping about something. Another favourite is the brilliantly colored Long-tailed Broadbill which I had the opportunity to observe while it was making a nest in Benog Wildlife Sanctuary, Uttarakhand. During brief fieldwork in the Alakai forest of Kauai in Hawaii, I had the opportunity to watch and hold the spectacular 'Iʻiwi or Scarlet Honeycreeper with a long decurved bill and it is definitely a special bird.
Where do you enjoy birding the most?
Birdwatching can make any place enjoyable. However, as I did a lot of bird watching in the WII, I enjoy watching birds in the nature's trail of the institute. It's a path amidst the natural Sal forest leading to an artificial water body. It's a small little oasis hosting 374 species of birds which is 64% of Dehradun's bird diversity. Apart from this, forests, especially, Sal forests are my favourite places to watch birds as one has to actively detect birds hidden in the canopy of tall trees or those which are quietly foraging under the shrub thickets.
I now always prioritise birdwatching when traveling to a new city. I excitedly look forward to watching birds and uploading lists from any new city to make that trip memorable. In Delhi, I am located near the Yamuna river and the morning cup of tea on my roof has given me surprising sightings of Black-headed Ibis, Painted Stork, Indian Grey Hornbill, and Indian Golden Oriole to name a few.
Do you have a birding partner or a group you enjoy birding with? How is birding alone different from birding with others?
I was fortunate to be guided in birdwatching by none other than Dr. Dhananjai Mohan, an authority on birds in our country. Observing the pure joy on Dr. Mohan's face while watching and describing birds sparked my interest to observe birds closely. His love for birdwatching turned out to be infectious for me. Being my Ph.D. supervisor he gently introduced me to birdwatching, teaching me how to identify birds correctly as it was one of the most important parts of my research work. As I had little to no experience in bird identification especially the birds of the Himalayan foothills, he advised me to start birding daily for at least an hour in the morning. I would take my field guide, notebook, and binoculars and watch each individual bird for as long as it was in my field of view. I would make mental notes on its size, plumage, and habits. Subsequently, I quickly jot down the features in my small field notebook and start focusing on the next bird. Later, I started noting down the bird calls and thanks to the bird call repository of Uttarakhand, I would listen and try to memorize the calls of as many birds as possible. These sessions opened a whole new world of birding as I could now use not only my eyes but ears as well to identify birds.
I was also fortunate to have a mentor in Dr. Raman Kumar, a renowned birdwatcher and a specialist on woodpeckers of Sal forest. I had the opportunity to go birding with him and Dr. Mohan in various places across Uttarakhand.
Birding alone is definitely nerve soothing. Over the years, watching birds when I am by myself and observing them singing, foraging, fighting, and sometimes just being goofy has also helped me overcome any stress. Birding in large groups has helped me share my joy of it and learn from other's observations and experiences.
Anything on the birding bucket list? (Doesn't have to be a bird, could be a place, witnessing a phenomenon, etc)
I have been lucky to watch birds in various habitats and countries but just like any birdwatcher, however, watching birds in northeast India is definitely on the top of my bucket list. Being interested in forest raptors, I am very keen on witnessing breeding and nesting behaviors of raptors including Shaheen Falcon, Collared Falconet, White-eyed buzzard to name a few. A little more day dreamish is to witness the "Birds of Paradise" breeding display in the forests of Papua New Guinea.
Has eBird changed how you bird? How?
eBird is like a time machine that can take me back to a given birding day in no time. One of my favourite features of eBird is the "tracklog" that helps you trace your birdwatching route. Although field notebooks have their own charm and are really important especially for early birdwatchers, it became difficult for me to keep them safe over the years while shifting from one location to the other. Thanks to eBird, now all my birding activities and checklists are in one place and I can relive those days by going to my checklist. I can also find out places near my location where people are reporting birds. I now use this feature to find locations for watching birds on weekends. As a researcher, one of the features I truly admire is how eBird reviewers let me know of any error I have made in bird identification or numbers of birds reported.
Have you set any birding goals for the coming months?
As I am based in Delhi, I want to watch birds in different biodiversity parks and wetlands in and around Delhi. The closest bird heaven near my house is the Okhla Bird Sanctuary and I plan to watch birds there as frequently as possible. More importantly, as winter is knocking at the door, I am excited to listen to the calls of migratory birds such as Hume's Warbler, Greenish Warbler, and flycatchers. I most definitely will lookout for their arrival in the remnant forest patches of Aravalli Hills.
What is your message for fellow birders?
My message to fellow birders would be to watch birds to enjoy and not for setting any record. Your leisure activity could also help in conserving birds and their habitats so do record your sightings and checklists through the ever-expanding network of eBird. Birds are harbingers of happiness and a legacy that we should pass to our coming generation. So try to contribute to bird conservation by simply reporting birds from your neighbourhood or even from your balcony regularly. Be an ethical and responsible birdwatcher and share your passion for birdwatching with as many fellow human beings as possible.
---
Header Image: Long-tailed Broadbill Psarisomus dalhousiae by Abhishek Das/ Macaulay Library