A psychiatrist by profession, Dr. Mayank Namdeo wears many hats in his free time, including sketching birds to better understand their morphology. Read all about him and his love for birdwatching in this profile below.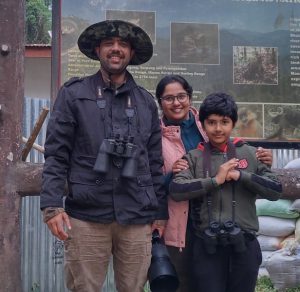 1. Please, tell us a bit about yourself. What do you do and where do you live?
I am Dr. Mayank Namdeo. I belong to Jabalpur, Madhya Pradesh located at the banks of river Narmada and launchpad for Kanha, Bandhavgarh, Panna, and Satpura National parks. By profession, I am a Psychiatrist working with the Indian Government. Currently, I am working in Tezpur, Assam. Apart from psychiatry and birding, my interests include gardening, butterfly watching, wildflowers, and reading natural history. I have recently started drawing birds to understand their morphology and identification features.
2. When and how did you get interested in birding?
I distinctly remember when I was in calss VIII there was a chapter in our english literature textbook where the 'forked tail' of a Drongo was described. Also, in our school we used to sing this song- 'हिन्द देश के निवासी सभी जन एक है" which had these beautiful lines "कोयल की कूक प्यारी, पपीहे की टेर न्यारी, गा रही तराना बुलबुल राग मगर एक है ". It was my first exposure to the bird diversity of India.
Subsequently, when I was in Darjeeling as a medical officer, I was introduced to birds by Dr. Vijay Baburao Despande. He had shown me an oriole and immediately I was in awe of birds. This led me to procure my first field guide – Indian Birds by Mr. Bikram Grewal, which was immensely helpful while I was in East Sikkim. I saw so many high-altitude birds including Fire-tailed Sunbird, Himalayan Monal, Yellow-billed Blue Magpie, White-throated Dipper, and many more. But unfortunately, I had not kept any records and my birding was mostly random. Till Oct 2018 I used to bird without any scientific approach, when I was posted to Tezpur, I realized that I am at a place where I can formally start my carrier as a birder. Hence, I contacted Dr. Bhupesh Goyal to make me his apprentice and be my birding mentor, for which he kindly accepted.
3. Do you have a favourite bird or birds? Why is it/are they your favourite?
As I have grown in birding, the list of favourite birds has also grown. It's so big that it nearly includes all of them. Still, if I want to select a group then owls will be the one group, and for beauty, I would choose Red-billed Leiothrix and Fire-tailed Myzornis as my favourites.
4. Where do you enjoy birding the most?
For me, birding is not limited to any particular spot, wherever I go I spontaneously start looking for birds and enjoy birding. However, Nameri National Park remains a favourite birding ground. I have done my maximum birding in my hospital campus in Tezpur where till now I have identified up to 102 species (including few rarities like Oriental Hobby) and learned their behavior/foraging/migration patterns hence it is also one place where I enjoy birding a lot.
5. Do you have a birding partner or a group you enjoy birding with? How is birding alone different from birding with others?
Usually, my partner in crime is my 10 years old son Maalkaush Namdeo. When I am seeking peace of mind and solitude, I enjoy birding alone or with my son. However, birding in group (when following birding etiquettes) has its own advantages. There are a greater number of eyes to look for birds and rarities, one can learn from more experienced birders and refine own skills while guiding new entrants.
6. Anything on the birding bucket list? (Doesn't have to be a bird, could be a place, witnessing a phenomenon, etc)
Birds bucket list: Though one would love to cover all the birds of the country and beyond, but to make this list more practical and achievable, at present, I have shortlisted Indian birds to include Red-billed Leiothrix, Fire-tailed Myzornis, Chukar Partridge, Blue-breasted Quail, Grey Peacock Pheasant, Western- Reef Heron, Pied Falconet, Black Baza, Indian Pitta, Hooded Pitta, Great Indian Bustard, Pheasant-tailed Jacana, Ibisbill, Indian Courser, Rufous-necked Hornbill, and Sultan Tit as my immediate targets. For me, Sultan Tit is the most elusive species as I have not been able to spot it despite my numerous trips to Nameri NP. Apart from these, one would definitely like to cover all species of owls, hornbills, sunbirds, barbets, kingfishers, and bee-eaters found across the Indian Subcontinent.
Destination bucket list: Ladakh, Western Ghats, Coastlines of Indian Subcontinent, Corbett National Park, Chilka Lake, Mishmi Hills, Andaman & Nicobar Islands, and Bhutan are on my immediate list to cover. However, as everyone knows wish list in birding is never-ending and the same is true for me.
7. Has eBird changed how you bird? How?
Yes, definitely eBird has changed my outlook and understanding of birding. Firstly, it has made me a regular birder who records his observations. With effect from 01 Jan 2020, I did birding every day till 05 Apr 2021 (461 days) after which my birding streak was broken due to COVID-19 infection. Secondly, I have understood the nomenclature of birds much better. Thirdly, as I have started using breeding codes, I have been able to understand the breeding behavior of birds much better than I used to do earlier. All in all, my approach has been scientific compared to when I was not using eBird.
With regular eBirding, I have become aware of changes in habitat, threats faced by birds, and also the ecological changes we are causing to the ecosystem. Therefore, now not only I am more careful about nature but I have also started making people aware of these changes.
8. Have you set any birding goals for the coming months?
I have not set any specific goals for next month but I am looking in terms of the next 2 – 3 months. As monsoon is approaching there will be many birds that will migrate back to our region to breed (for example Chestnut Munia, Indian Cuckoo, Baya Weaver, etc) and I would like to observe these along with my son Maalkaush and my new birding friend Dr. Nitin.
I also intend to start local birdwalks, to encourage others in to birding and make people aware of the habitat loss. I am working on learning the identification of warblers also.
9. What is your message for fellow birders?
The birding community is a very learned community and has been a great force in nature conservation. I would like to request everyone to follow birding etiquette, be environment friendly, and keep birding regularly for the sheer pleasure of it. It is better to miss that perfect photograph than to disturb bird behaviour.
---
Header Image: Sultan Tit Melanochlora sultanea by Manish Panchal/ Macaulay Library