"To me birding is like therapy, uplifting my mind"- says Amarjeet Kaur, a researcher at the Wildlife Insitute of India. Read on to know how she got interested in birds and what makes her tick.
1. Please tell us a little about yourself. Where do you live and what do you do?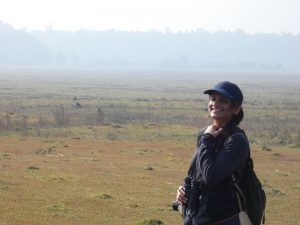 I am a researcher working at the Wildlife Institute of India (WII), Dehradun, Uttarakhand. I am currently pursuing my doctoral research on a long-distance migratory bird, the Barn Swallow in the Indian Himalayan region. Before joining my Ph.D., I worked on another long-distance migrant, the Amur Falcon in the Northeast Indian region. I currently live in Dehradun but originally, I'm from Delhi. On days of leisure, I enjoy painting birds and have recently started painting on rocks.
2. When and how did you get interested in birding?
It was during my postgraduation when I was first introduced to the magical world of birds. A close friend introduced me to identifying birds and I remember that I saw my first Indian Roller on my university campus. Then, as part of our MSc course, I visited Jaipur to witness migratory birds and a few of the memorable sightings which built my interest in birding were the Pied Avocets sweeping their beautiful curvy bills sideways to forage, a close sighting of thousands of Bar-headed Goose trumpeting at Chandlai Lake. However, I got completely hooked on birding only later when I joined WII in 2018. My Ph.D. guide Dr. Suresh Kumar motivated me to understand more about birds, learning their calls, and a dear friend and experienced birder Sarabjeet helped me improve my birding skills. When I first started birding in Dehradun during spring when most birds would visit the Dehradun valley to breed and at that time the first bird song that I learned was of the "brain fever" bird, the Common Hawk Cuckoo! And the most exciting and unforgettable sighting was of the singing Indian Pitta at the WII campus.
3. Do you have a favourite bird or birds? Why is it/are they your favourite?
It is probably the most difficult question to answer. But first, let me start by answering the incredible phenomenon which also is one of my favorite sightings of any birds. It was about witnessing the congregations of Amur Falcons in millions in Nagaland and Manipur. This phenomenon made me just stand in awe and watch this amazing feat of nature!  When it comes to my favorite birds, there are many. However, birds of undergrowth are my current favorite. It is only because most of them are so shy and cryptic it makes you just wait for them to appear in front of you. Sighting a beautiful and brightly yellow-coloured male Golden Bush-Robin calling from the understory near Benog Wildlife Sanctuary in Mussoorie is one. I recently got an opportunity to visit Pakke Tiger Reserve in Arunachal Pradesh accompanying the prominent ornithologist Dr. Trevor Price and his team. There I had so many exciting sightings that it's hard to choose favourites. Seeing the Pin-striped Tit Babblers daily signified the completion of a good day to me, watching the Slaty-bellied Tesia calling, appearing in front of me and then just flying into the dense bushes, and sighting all three species of Tesias was the highlight! The surprise entry of a curious Pygmy Cupwing stretching its scaly belly while calling was such a delight. Other than these, sighting of Silver-eared Mesias, Silver-breasted Broadbills, Sultan Tits, Red-headed Trogon, and then of the Ibisbill foraging in the Pakke river are the ones closest to my heart.
4. Where do you enjoy birding the most?
I enjoy birding anywhere and everywhere. To me birding is like therapy, uplifting my mind. I enjoy birding the most in a forested habitat where I get a feeling of being surrounded by the peaceful greenness where the only sound, I hear is of forest life, and there I love to follow the source of the bird calls. WII campus and nature's trail are my go-to birding spots, the adjacent Sal Forest is another site where I love to do birding at. And on my free days, I enjoy visiting new places to watch birds.
5. Do you have a birding partner or a group you enjoy birding with? How is birding alone different from birding with others?
Yes, I do have a birding group, and being in the group helps us all spot birds, identify calls, and share interesting bird facts! Birding alone is very different as usually on days of just being alone with nature, I love the silence around which is to be only filled by the bird calls. Birding on your own gives you the freedom to spend as much time just watching a single bird and also is the best way to do nature journaling.
6. Anything on the birding bucket list? (Doesn't have to be a bird, could be a place, witnessing a phenomenon, etc)
There are many places on my birding bucket list, first is to visit different landscapes of India, western India to witness the migratory birds and raptors, then the southern Indian landscape and Andamans for all its endemic birds. A long wish is to visit the rainforests of New Guinea to sight the Birds of Paradise and then the MacGregor's Bowerbird building its tall bower and also to witness its astounding courtship that involves mimicry including human-made sounds!
7. Has eBird changed how you bird? How?
eBird has completely changed my birding in terms of keeping a record of my sightings. Regular posting checklists on eBird has helped in understanding the distribution of species across different seasons.
8. Have you set any birding goals for the coming months?
I have not set any birding goals as I like to visit new areas and sight whatever I can. However, in the next coming months, I'll be visiting the whole of the Uttarakhand for my research and therefore, I hope to see as many birds in the landscape, especially at the higher elevations.
9. What is your message for fellow birders?
It would be really great to have more humble and patient birders around, which is extremely important in helping introduce a new person into the world of birding. During the initial days of birding, it is very important to have the company of a good birder and most importantly someone who understands and respects the knowledge of the new person. My other message to fellow birders is to follow birding ethics, and completely avoid the use of call playbacks where the prime goal is just to sight a specific bird.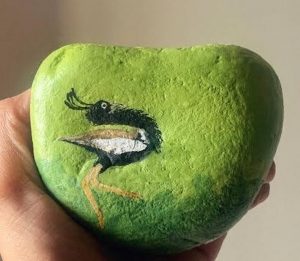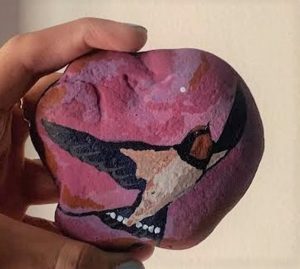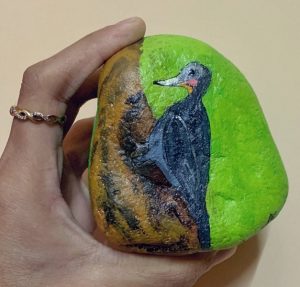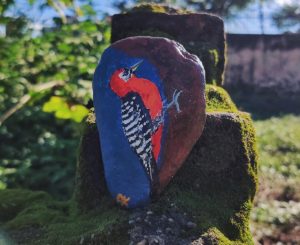 Rock Paintings by Amarjeet Kaur
---
Header Image: Golden Bush-RobinTarsiger chrysaeus by Santanu Manna/ Macaulay Library