A former student of Kerala Agricultural University, Kerala; living in Shopian, Kashmir, Aakib Hussain's wish is to explore the picturesque valleys of Kashmir! Let's take a look at what inspired him to start birding…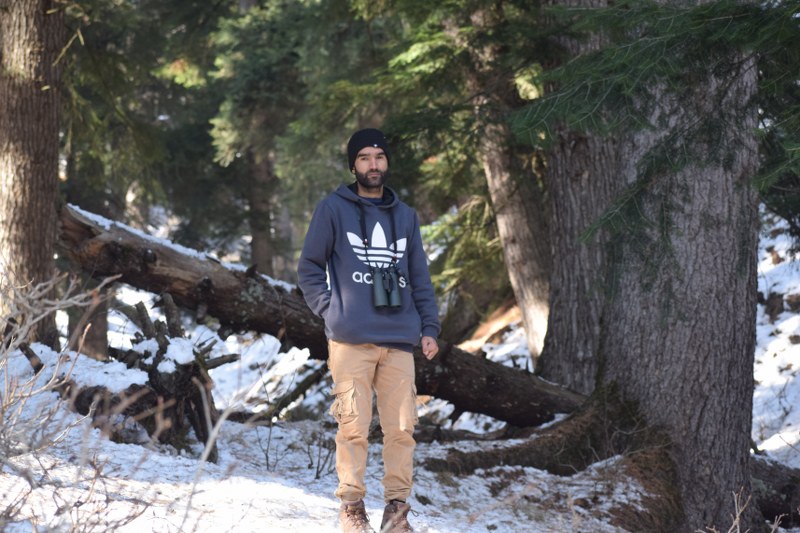 1. What do u do and where do you live?
I have completed Masters in Forestry (Wildlife Science) from Kerala Agriculture University (KAU) and currently voluntarily helping the Jammu & Kashmir Wildlife Department in framing the Management Plan of Dachigam National Park and the adjacent conservation reserves. I am currently living at Dangar Pora, Shopian, Kashmir.
2. When and how did u get interested in birding?
It was during the course of time when I got admitted to KAU I got very much interested in birding as the campus has a rich bird diversity. My interest in birding arose much more on meeting with my mentor Dr. P. O. Nameer who groomed me in birding and eBirding, both of which were completely new to me. I was lucky to have some passionate birdwatcher friends who helped me in initial identification and I was introduced to more birds. On coming back to Kashmir, I started birdwatching very seriously with a curiosity to explore my surrounding areas, which still continues.
3. Do you have a favourite bird or birds? Why is it/are they your favourite?
Well picking a single bird as favourite is difficult, as I like every bird equally but if have to pick some I would select Himalayan Griffon as its flight inspires a lot and so does its scavenging nature. Other favourites are Orange Bullfinch and Spectacled Finch (for their beautiful plumage) and Variegated Laughingthrush (for its melodious sound).
4. Where do enjoy birding most?
This too is a difficult one as every place has its unique features and so are the birds. However, I enjoy birdwatching most at Dachigam National Park.
5. Do u have birding partner a birding partner or group you enjoy birding with? How birding alone is different from birding with others?
To be honest I prefer to birding alone as there is less disturbance and you can spend as much time as you want watching birds. When it comes to birding in groups, I prefer Kashmir Birdwatch as there are very knowledgeable and resourceful people in this group.
With the intent to train and guide the young school students of my native place, I have formed a small group called Shopian Bird Monitoring Group to raise awareness about how birds are important and valuable to our ecosystem. The idea is to also make them regular birders, which they are finding very interesting, thankfully.
6. Anything in the bucket list?
My wish is to first explore all my surrounding areas and then the whole of Kashmir as the valley is full of endemic birds as well as visited by migratory birds throughout the year.
7. Has eBird changed how you bird? How?
eBird has been game-changing in the birdwatching arena. It is a go-to tool for anyone who is interested in keeping track of their birding activities as well as a helpful citizen science platform. This free database source- extraction as well analysis of the eBird are phenomenal features. It simply has revolutionized the way we go birding.
8. Have u set any birding goals for the coming months?
In the coming months, I will be birding in the unexplored areas of Shopian and Hirpora Wildlife Sanctuary.
9. What is your message to fellow birders?
My message to fellow all birders and eBirders is to keep regular track of their bird sightings. It is not the number of species but the regular and constant tracking of birds that can help in interesting findings. Try to upload at least 4 – 5 checklists a week and if possible upload photos on eBird rather than some social media platform.
---