Bihu Bird Count 2020
Results
Bihu Bird Count, a bird monitoring event, was organized for the first time in Assam in collaboration with Bird Count India, to document the bird diversity of the state by associating it with one of the biggest festivals of Assam – Magh Bihu. The main motif behind organizing this event was to intertwine the cultural and aesthetical value of the festival with nature and thus spread knowledge and awareness about the beauty and importance of birds.
Bihu Bird Count 2020, took place from 11th to 13th January, 2020, with the aim to encourage people to go birding anywhere, recording and sharing their observations and uploading their checklists on the eBird website. The enthusiasm of this event thus makes it a great platform to introduce people to birds and birdwatching.
Over the three days of this event 46 birders in Assam uploaded 240 checklists (Day 1 = 69, Day 2 = 91 and Day 3 = 80), recording 382 species. The list of participants are given below:
During Bihu Bird Count 2020, birders covered 14 Districts of Assam. The highest number of checklists contribution was from Kamrup District (132) followed by Sonitpur and Tinsukia with 25 and 20 checklists respectively (Map 1).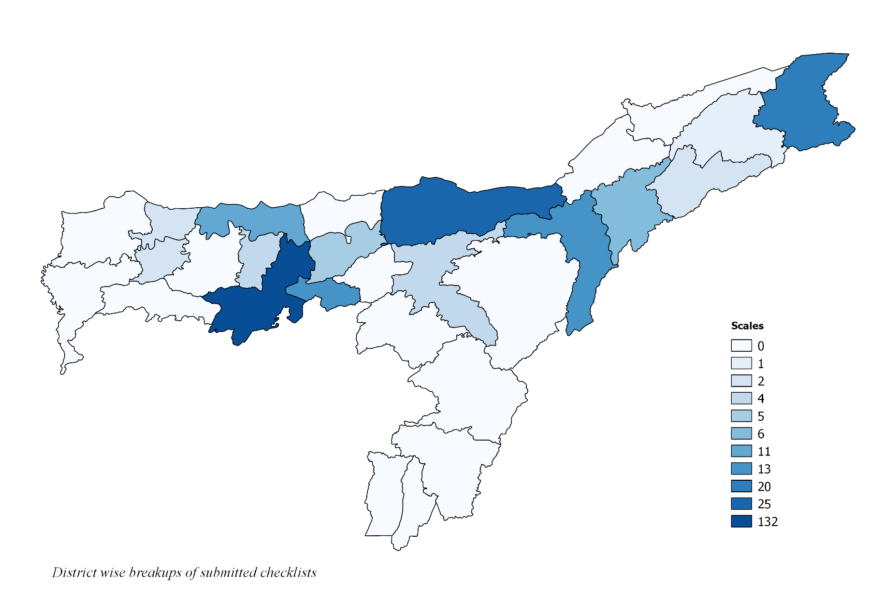 On the other hand, highest number of species were reported from Baksa District (226) followed by Tinsukia and Sonitpur with 209 and 199 species respectively (Map 2).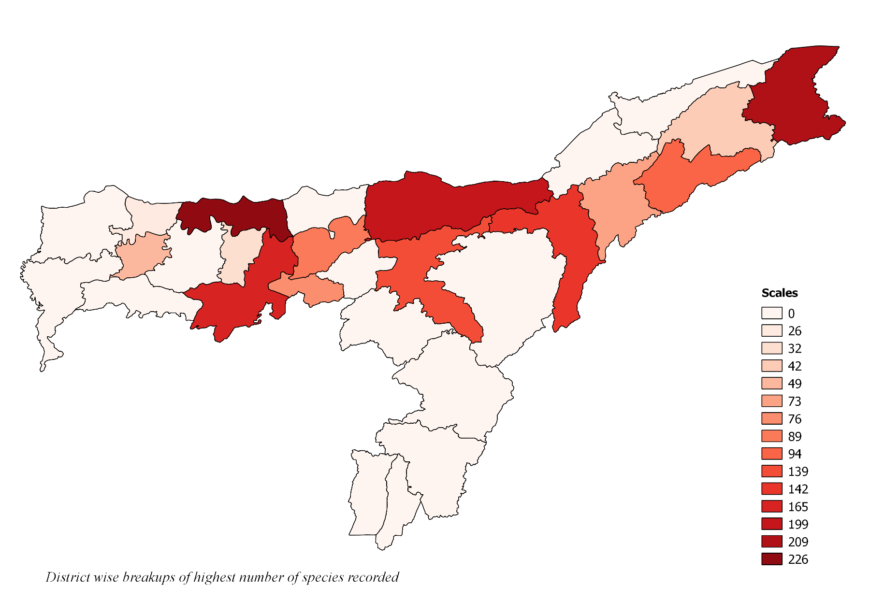 A total of 691 species of birds are approximately known to occur in the state of Assam, of which 382 species were reported within the three days of Bihu Bird Count 2020.
The most frequently reported species during Bihu Bird Count 2020 are Spotted Dove, Black Kite, Cattle Egret, Red-vented Bulbul and Common Myna. The top 10 frequently reported species are shown below: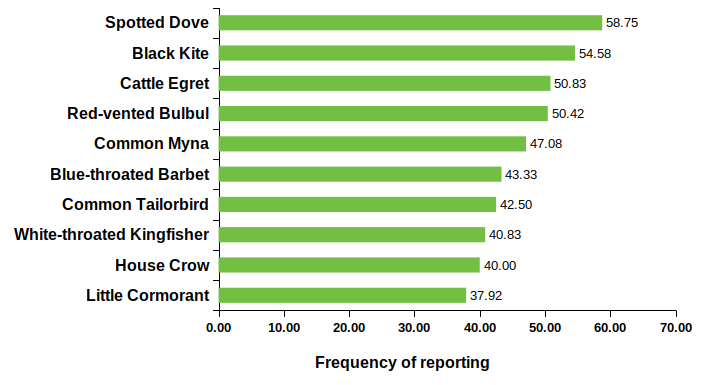 The Bihu Bird Count 2020 had a total number of 46 registered participants, with many dedicated birders all along the state. The top ten participants, ranked by the number of complete checklists uploaded and by highest number of species observed are as follows: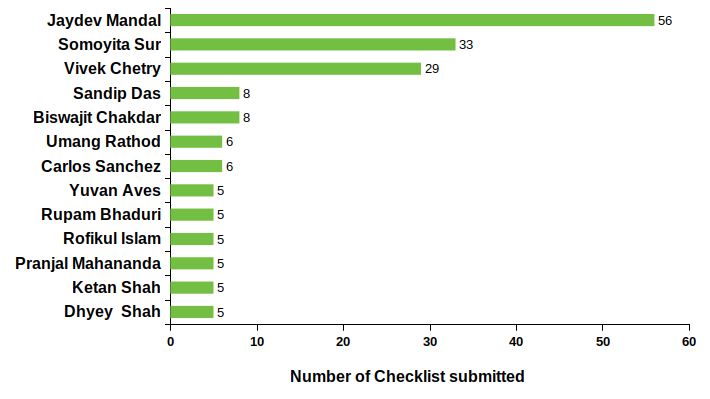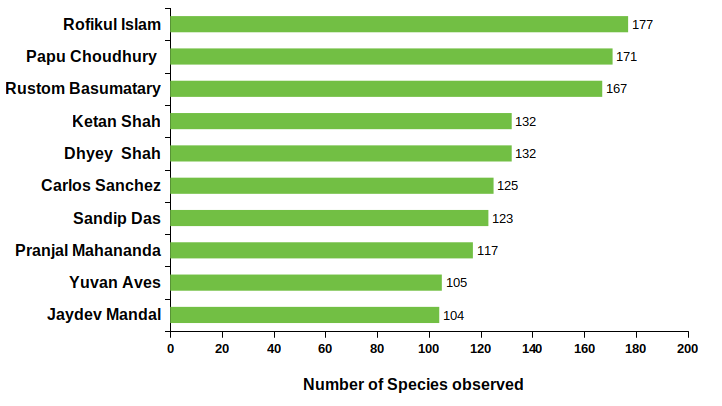 We would like to acknowledge all our organizers, coordinators, and contributors who carried out bird walks and talks individually as well as in campuses and elsewhere in the state. Also, our sincere appreciations to all the reviewers for reviewing the submissions at the end moment, and to the media houses who thoughtfully covered our event and helped in spreading the word through their platforms.
The Bihu Bird Count will return next year, with the hope of having more influx of birders and enthusiasts.
---
What is Bihu Bird Count?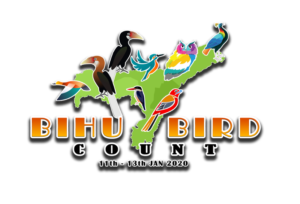 The Bihu Bird Count (BBC), is a bird monitoring program organized to list and count the wild birds during that particular time of the year in a specified area. In addition to this, BBC also aims to promote the association of the festival with nature. Bihu, a festival celebrated by the people of Assam, rejoices the natural progression of seasons by recognizing the different agricultural cycle of paddy crops.
Magh Bihu or Bhogali Bihu, has its own importance of celebrating the harvesting season of crops. It is that time of the year when you are surrounded by misted fog, cold night and migrating birds. Thus, BBC aims to document the diversity of bird species and their number in this time of the year.
In brief
This Bhogali Bihu, the Bihu Bird Count will take place from 11th to 13th January 2020
How to go about it?
1. Go birding anywhere (home, forest, wetland, paddyfield and so on) in these three days (11th to 13th January 2020).
2. Register yourself in the link given shorturl.at/ABCN5
3. Go birdwatching for at least 15 mins (or as long as you want), listing and counting all the species you see and hear. Repeat as many times as you can during Bihu Bird Count.
4. Upload your lists into eBird-India. Deadline for uploading lists: 20 January 2020!
If you are bird watching inside a society or a campus (university, institute or organization), please check if your location is already marked as a 'hotstpot'. in eBird. If it is, then please upload your lists to that hotspot. If it is not, then kindly suggest the location as a hotspot. More about eBird locations and hotspots is here
If you are new to eBird, take a look at this getting started guide.
If you are new to the concept of birdwatching, do not worry. Try to identify the bird species to the best of your ability or take help from an expert around you. Alternatively, you can reach us out at [email protected] However, it is extremely important that you do not misidentify a species else it will change the statistics in the citizen science platform eBird.
If you are outside Assam and still wish to pursue with this Bird Count in any area of your interest, please feel free to continue by providing proper registration details.
---
The Bihu Bird Count logo was designed by Babu Chidambarachar Gururaj