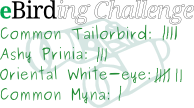 Compared with the challenge for July, the August challenge was fairly straightforward — and a repetition of several earlier challenges: to upload at least 20 complete, effort-based lists during the month, each of a minimum duration of 15 minutes. So were expected a large number of birders to cross the target, especially with the ongoing Kerala Bird Atlas and the Onam Bird Count, both of which have been drawing in large numbers of birders. How did things turn out?
Overall, during August, the number of complete, effort-based lists of at least 15 min  was 7,447. In all, 567 birders uploaded 8,053 lists of all types from August, together accounting for just over 1 lakh observations from India. Yes, that's right, 1 lakh — and it's not even winter yet!
Of the 567 August eBirders, 96 people uploaded 20 or more eligible birdlists through the month! They are (as always, excluding group accounts):
Abdul Raheem Munderi
Abhijith R.S
Abhijith Surendran
Abhilash Ravindran
Abhirami C
Abhishek Gulshan
Able Lawrence
Ajay Gadikar
Ajay Neelamperoor
Aju Raju
Amal U S
Andrew Johnson
Aneesh Sasidevan
Anish Aravind
Anjitha Devarajan
Anoop CR
Aparajita Datta
Arabinda Pal
Arun Lal
Arya Vinod
Chithrabhanu Pakaravoor
Clareena Jose
Colin Braganza
Conrad Braganza
Devi Ambika S
Devika Sanghamithra
Dhanesh Ayyappan
Dinesh Pundir
Divya Mudappa
Dr George P J
Emanuel George
Erle Brito
Ganeshwar S V
Garima Bhatia
Gokul Harikumar
Hari Kumar
Hari Mavelikara
Haritha Krishnan
Hemanth Byatroy
Jafer Palot
Jaichand Johnson
Jayakrishnan Mannar
Jaydev Mandal
Jinesh P S
Jismi M O
Jyothi Krishnan
Kulbhushansingh Suryawanshi
Madhushri Mudke
Manju Sinha
M D Madhusudan
Mujeeb PM
Narayan Sharma
Naveenlal P
Neenu Abraham
Niranjana C
Nisarga Srinivas
Nithish Kumar
Panchapakesan Jeganathan
Pankaj Gupta
Pavithra Prasad
Pavithra Sankaran
Prashanth N S
Praveen ES
Premchand Reghuvaran
Raja Simma Pandiyan
Rajneesh Suvarna
Raman Kumar
Ramit Singal
Raphy Kallettumkara
Rejitha V
Renju TR
Rohit Naniwadekar
Sachin Krishna M V
Sajin Seethi
Santhosh Kumar
Sarath Babu N B
Sasidharan Manekkara
Shah Jahan
Shanmugam Kalidass
Sheeba Nanjan
Shivi Mishra
Sivakumar AK
Somoyita Sur
Sreelekshmi S
Suhel Quader
Sumesh b
Surendhar Boobalan
Swati Sidhu
Syamili Manoj
T R Shankar Raman
Vaisakh George
Vidhya Sundar
Vinod Venugopal
Vinuja S
Vipin V Nath
Vishnu Murali
Many congratulations to all of them!
One of these 96 was chosen using a computer-generated random number to receive a small gift, and that person is
Narayan Sharma
who receives a copy of Bird Sense: What it's Like to be a Bird by Tim Birkhead. (You can read a review here, and there is a website devoted to the book too.)
Here is the full list of all 567 eBirders from August 2015:
Aakash Shejwal, Aamir Shaikh, Abdul Basith, Abdul Raheem Munderi, Abhijith R.S, Abhijith surendran, Abhijit Prabhudesai, Abhikesh K, Abhilash R, ABHILASH RAVINDRAN, Abhinand C, Abhirami C, Abhishek Gulshan, Abinand Reddy, Abishek Harihar, Able Lawrence, Adarsh bhadrakumar, Aditi Prasad, Aditya Aravind, Aidan & Savio Fonseca, Aisha Sultana, aishwarya bhandari, Ajay B, Ajay Gadikar, ajay neelamperoor, Ajit A, AJU RAJU, Akash Nayak, akhil ashok, Al badush, Albin Jose, Aleena Sabu, Amal U S, Amal U S NOT IN USE, AMBIKA NANOTH, Amish Parekh, Amit Ghosh, Amol Lopes, amol mande, Amritha S, Anamika Menon, Anant Gokhale, anant pande, Andrew Johnson, Andrew Preston, Aneesh Panakkool Thamban, Aneesh Sasidevan, Anila S, anil subramaniam, Anish Aravind, Anish Mohan Thampi, Anjali J, Anjali S, Anjitha Devarajan, Ankit Datta, Ankit Vikrant, Annapoorna Daithota, Anoop CR, Anoop King, Anupam Khanna, Anuradha Krishnan, Anushya Karivellur, Anvith KS, Aparajita Datta, Aparna Purushothaman, Appavu Pavendhan, Aprajita Lobana, Arabinda Pal, Arathy S Kumar, Aravind AM, Aravind Balagopalan, Aravind Rajan, Archit Krishna, Aristo Mendis, Arjun CP, Arjun R, Arnav Anish, Arpit Bansal , Arun Bhaskaran, Arundev G, Arun kumar, arun lal, ARYAKUMARAN M, Arya Vinod, Ash J, Ashritha Anoop, Ashwin Hp, Ashwin kadiyala, ashwin mohan, Ashwin Warudkar, asokan mash, aswathy rajan, Aswathy rajan, Aswathy S, ATANU MODAK, Athira K Nair, Augustin Joseph, Ayuwat Jearwattanakanok, balakrishnan pakaravoor, Balwant Negi, Bhalchandra Pujari, Bharat Kaneria, BHARAT RUGHANI, BHAVYA MM, bijumon ke, Biju PS, Bimalnath Punnassery, Binod Borah, Bird Atlas Thrissur, Biswajit Saha, Blessy Babu, BOBIKA VK, Bopanna Pattada, Chaitanya Rajarshi, Charutha K, chetan vala, Chethan GS, Chinmay Rahane, Chippy Vijay, chithrabhanu pakaravoor, Chris Bowden, Clara Correia, CLAREENA JOSE, CNS Nature, Colin Braganza, Conrad Braganza, darwin tony jose, David Arumainayagam, David Raju, david stanton, Deepa Mohan, Deepika Prasad, Deepu T, Desmond Lobo, Deva Narayanan, Devashish Vyas, Devi Ambika.S, Devika Sanghamithra, Dhananjai Mohan, dhananjay bhamburkar, Dhanesh Ayyappan, Dhanya S Nair, dhiren malani, Diju Kaippan, dilip kg, Dilip Polpakkara, Dinesh Pundir, dipak bowalkar, dipani sutaria, Dipu Karuthedathu, Divakar KS, Divya Mudappa, divya srivastava, Dr George P J, dwijit ss, Elrika D'Souza, Emanuel george , Erle Brito, Ezhupunna Birders, Fauzia Arief, Gagan Mittal, Ganesh Subramaniam, Ganeshwar S V, Garima Bhatia, Gaurang Bagda, Gaurav Nalkur, gayathri naik, Geetha Ramaswami, Ginu George, Gireesh Pallikkara, Girish Jathar, Gnanaskandan Kesavabharathi, Gokul Harikumar, Gopika S, G Parameswaran, gracy michael, GURUPRASAD PUTTAMADAPPA, Hakimuddin F Saify, Hanuman Gawas, Hari Krishna Adepu, Harikrishnan Surendran, hari kumar, HARI MAVELIKARA, HARITHA KRISHNAN, HARSHADA GAUNS, Harsha Jayaramaiah, HARSHA SURESH . B, Hemant Dhadnekar, Hemanth Byatroy, Hiren Chaudhari, HITHA P T, Humayun Taher, induchoodan sreedharan amalath, Jadeswamy Madaiah, Jafer Palot, Jahnavi Joshi, Jaichand Johnson, Jameela Parampatt, Janhavi Rajan, Janinder Rana, Jayadev Menon, jayakrishnan mannar, Jayan Thomas, Jaydev Mandal, Jeremy Bowman, Jeswin Joseph, Jignesh Rathid, Jinesh P S, jismi m o, Jitendra Bhatia, Johnny Jacob, John Ravindran, jolly kv, JOSE RANI BABU, JUGAL PATEL, Jyothi Arun, Jyothi Krishnan, Kalyan Varma, Kamalakshan kakkol, kandy rathinasamy, Kannan AS, Karan Tambe, Karthik Teegalapalli, kasthuri dev, Kaustubh Rau, KAVYA MOHAN, Khaleel Chovva, Kiran ., Kiran bagade, kiran more, Krishna Girish, Krishnamoorthy Muthirulan, Krishna Murari, Krishna Murthy, Krishnapriya Tamma, K.Sravan Kumar, Kulbhushansingh Suryawanshi, Kumaran Narayanaswamy, Lakshminarasimha Ranganathan, lakshmi r, Latha G A, Laura Mahrt, Lekshmi Jayakumar, Lloyd Fernandes, Madhura Niphadkar, Madhurima Das, madhushri mudke, madhushri mudke , mahathi narayanaswamy, Mahesh madhu, Manan Singh Mahadev, Manasi Chorge, Mandar Bhagat, Mangirish Dharwadkar, Manipal Birders, Manish Chandi, Manjunath R S, Manjusha K, Manju Sinha, Manoj Bind, Manoj K, Manoj Karingamadathil, Manoj MJ, manoj negi, Manu Mengi, Marvelyn Dias, Mathew Salu, Maulik Varu, MAXIM RODRIGUES K, M D Madhusudan, Megha sasidharan, meher preetham, MigrantWatch (group account), Mike Prince, Milan Sojitra, Mino Tamil Vanan, m m r, Mohammed Sayeer, Mohit Aggarwal, Mohmed Jamal, Monica Kaushik, Monisha Mohandas, Mousumi Dutta, Mousumi Ghosh-Harihar, Mrinmayee Thakur, mujeeb pm, Muthu Narayanan, Naman Goyal, namassivayan lakshmanan, NA NA, Nandhakumar Radhakrishnan, Narayan Sharma, Navaneeth nair, Naveenlal P, Neenu Abraham, Neethu George Thoppan, Neha Waikar, Nelson George, Niranjana C, Nisanth Raveendran, Nisarga Srinivas, Nisha M, Nisha TK, nishith Kumar, Nishit Soni, nithish kumar, NITISH AGRAWAL, Nupur Kale, Omkar Dharwadkar, omkar naik, P.A.Anish Elanad, Panchami Manoo Ukil, Panchapakesan Jeganathan, pankaj gupta, PANKAJ GUPTA, Pavan Kumar Mangu, Pavan Reddy, pavithra prasad, Pavithra Sankaran, P. B. Samkumar, Peroth Balakrishnan, Phani krishna Ravi, Pooja Rathod, Pradeep Aymanam, PRADEEP CHAUDHARY, PRADEEP KUMAR V B, Pradeep Sangwan, Pradyut Choudhury, Prakash G, Prakash Mathew, Pranav abi, Prasanna Parab, PRASANTH S, Prashanth N S, Prashant Kumar, Prashant Pimpalnerkar, Prashant Tewari, prateek choudhury, Prathamesh Desai, Pratiksha Kothule, Praveen es, Praveen J, praveen Rao koli, Preetha P.C, Premchand Reghuvaran, Prem Prakash Garg, Priyadarshini K, Pronoy Baidya, Pushpa C R, Raghavendra Mukundarao, Raghu Bheemarayan, Raghunath r, Raghurama Hegde, raghu ram reddy D, Raghuvanshi Rajesh, Rahul Jawalge, rahul narlanka, Raja Simma Pandiyan, Rajat Rastogi, Rajeevan PC, Rajesh Bhalodia, Rajesh Kalra, rajesh nayak, Rajesh Panwar, Rajiv D'Silva, Rajneesh Suvarna, Raju Kasambe, Rakesh mondal, Raman Kumar, Ramesh Desai, Ramesh M, Ramit Singal, Ram Mohan Angadipuram, Rani Jinesh, raphy kallettumkara, Rathish RL, Ravi Sharma, Rejitha V, renju tr, Reshma Robin, Reuben Johnson, Rinto Abraham, Rishov Biswas, Rithika Fernandes, Riyan Konkath, R.K. Birjit Singh, Rohan Arthur, Rohan Chakravarty, Rohikanta Sijagurumayum, Rohit Chakravarty, Rohit Naniwadekar, Ronit Dutta, Roshnath R, Rucha Karkarey, Rudraksha Chodankar, Rushil Fernandes, sachin chandran, Sachin K Aravind, SACHIN KRISHNA M V, sahana m, Sajin P J, sajin seethi, salini U Kumar, Samiran Jha, samuel john, Sandeep Choudhary, Sandeep Krishna Das, Sandipan Ghosh, Saneesh C S, Sangita Mani, Sanjay Karanth, Sanjay Molur, Sanjay Sakat , Sanjay Sondhi, Sanjay Thakur, santhosh kumar, santosh attreya, Sarath Babu N B, Sarath Chandran, sasidharan manekkara, Sastha Prakash, Sathyan Meppayur, Satish Chandra Thayapurath, Satish Gogate, satish siwatch, Satypal Singh, Saurabh Sawant, sebin joseph, SEDHULAKSHMI K UNNI, Selvaganesh K, Shah Jahan, Shameena S, shamitha krishnan, Shanmugam Kalidass, Sharang Satish, Sharath Adavanne, Shashank Birla, Shashikantha Koudur, Shashikant S. Naik, sheeba nanjan, sheen mary, Shehan Joe Zachariah, SHESHGIRI BAGDE, Shivakumar M, Shivaprakash Adavanne, Shivashankar Manjunatha, Shivi Mishra, Shiyon Saji, SHRUTHI VAYAPARAMBIL, Shubhadeep Mukherjee, Sivakumar AK, Sivashankar Ramachandran, Siva T, Sneha G Ajay, Sneha Gupta, Snehasis Sinha, Soham Sinha, Somoyita sur, Somraj Gupta, Soni Nambiar, SOUMYA RAGHESH, Sourav Dinda, Sreedhar Vijayakrishnan, Sreekumar E R, Sreelakshmi.R. Nair, Sreelekshmi S, Srikanth Bhat, Srinath Reddy, Srinivasa Shenoy, Srinivas Daripineni, SRI RAMAN, Sriram Reddy, Sriram V, Sritha A G, S S Cheema, SS prasanth, steffin babu, Subhajit Chaudhuri, Subramniam Venkatramani, sudeep r, SUDHANYA RAY HAJONG, Sudha Sarojini, Sudhir Moorti, Suhel Quader, SUJATHA AS, sujatha rangaswami, Sujith Surendran, Sumanta Pramanick, Sumesh b, sumi Panniannur, sunil kumar, Sunil Sreedharan, sunish asokan, sunithap manekkara, Suniti Bhushan Datta, Surendhar Boobalan, Suresh AC, Suresh Kumar, Suresh Rana, Suresh V P Suresh, surya devi, Surya Prakash, Swaroop Bharadwaj, Swati Sidhu, SYAMILI MANOJ, syam viakkatil, syed ateeq, Syed Muzamil, Taksh Sangwan, Tanya Seshadri, Tarachand Wanvari, Taukeer Alam Lodha, Tejas Vagadia, Tejaswini Limaye, The Malki Initiative, TheNatureTrust (GroupAccount), Thomas Falk, Thorkild Michaelsen, Tintu Shaj, T.N. Bindu, Toms Augustine, tony antony, T R Shankar Raman, Ujwal Shankar, Uma K, Umesh Kumar, Umesh Vaghela, Ushma Shukla, Vaidehi Gunjal, vaisakh george, Varun Kher, vedant kumbhar, Vena Kapoor, Vency Nadar, Venkatesh Viswanath, Victor Mukherjee, Vidhya Sundar, vijayakumar T N, Vijaya Lakshmi, Vijay Desai, Vijay Joshi, vijesh vallikunnu, vinayak chavan, Vinay Bharadwaj, Vinay Nadig, Vinay Patel, Vineeth Viswanath, Vinoba Anand, vinod k, Vinod Venugopal, Vinuja S, Viola Rodrigues, vipin v nath, viral joshi, Viral Pankaj, Virendra Adhikari , Vishal & Sophia D, vishnudas ck, Vishnu Murali, Vishnupriyan Kartha, VIVEK K. NAIK, Vivek M, Vivek Puliyeri, vrinda lath, Wahiba Humam, Yagnesh Desai, Yousaf Panichullathil
Are you doing your best to match the target for September (all about sharing)? And don't forget the several flavours of yearlong challenges for 2015!