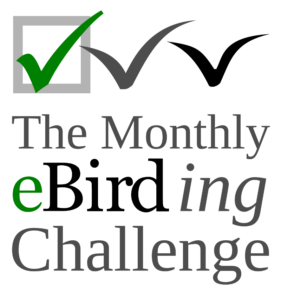 April is a hot month in most parts of India, and this April has been considerably hotter than previous years. A good month to stay put and look for birds in your own patch!
The challenge for April was to do some consistent birding — from the same place, following the same protocol (stationary count, for 15 minutes), and over at least 15 days of the month.
Here is a break-up of eBirding in India in April (with previous month in brackets).
Number of birders: 698 (859)
Number of lists (all types): 6,000 (9,180)
Number of lists (complete, 15min or longer): 5,155 (7,820)
Number of observations: 1.15 lakh (1.7 lakh)
Of the 698 eBirders in April, just  9 met or exceeded the target for the month. They are (as always, excluding group accounts):
Ajay Gadikar
Akash Gulalia
Ashwin Viswanathan
Ganeshwar S V
Komal Agrawal
Rajesh Prasad
Renju TR
Vidhya Sundar
Vinay Nadig
Many congratulations to all of them!
One of these 9 was chosen using a computer-generated random number to receive a small gift, and that person is
Komal Agrawal
who receives a copy of Bird Sense: What it's Like to be a Bird by Tim Birkhead. (You can read a review here, and there is a website devoted to the book too.)
Here is the full list of all 698 eBirders from April 2016:
Aaditya S Kumar, Aasheesh Pittie, Aashish Joshi, Abdul Ghaffar Ansari, Abdul Raheem Munderi, abha manohark, Abhijeet Avate, Abhijeet Sawant, abhijith a.p.c, Abhijith surendran, Abhinav Chaudhary, Abhinav R, Abhirami C, Abhiram Sankar, Abhishek Gulshan, Abhishek Maiya, abhishek ravindra, Abinand Reddy, Adithya Bhat, Aditi Deodhar, Aditya Aravind, Advait Marathe, Afshan Husain, Afthab Faisal k, Aidan Fonseca, Aisha Sultana, Ajay Gadikar, Ajish George, Ajit Hota, Akash Gulalia, Akshay Bharadwaj, Akshay Surendra, Alagu Abinaya, Albin Jacob, aleena thomas moore, AMALKRISHNAN.S AND AKASHKRISHNAN.S, AM AMSA, Amandeep Singh Channa, Amarendra Konda, Amar Narayan , Amatya Sharma, Amitangshu Acharya, amith bangre, Amit kaushik, Amit Kulkarni, Amit Kumar, Amit Thakor, Amol Lopes, amol mande, Anand Kalinadhabhatla, ANAND Osuri, Anantha Bondade, anant pande, Anay Chaubal, Aneesh Sasidevan, aniket paluskar, Anil Mahajan, Anil sarsavan, ANIRUDDHA GHOSH, anirudh Kamakeri, anisha jayadevan, Anish Aravind, Anjali J, Ankit Vikrant, Annie Joseph, Anoop CR, Anoop King, Anto Christy, Anup Chavda, Anuradha Krishnan, Anurag Chandak, Anurag Vishwakarma, Aparajita Datta, Appavu Pavendhan, Arabinda Pal, Aradhya Sardesai , Aravind AM, Aravind Amirtharaj, Aravindhan K, Areef Pasha, Arjun S Menon, Arnab Pal, Arnold Goveas, Arpan Ghosh, Arpit Deomurari, ARUN KUTTAN, arun lal, Arya Vinod, Ashish Babre, ASHISH CHOUDHARY, Ashish Jha, Ashis Kumar Pradhan, ashwin mohan, Ashwin Surendran, Ashwin Viswanathan, Ashwin Warudkar, Aswin Nisanth, Atharva Damle, Atharva soman, Athira K Nair, Augustin Joseph, avijit dutta, Avinash K Mon, Avishkar Munje, Ayan Khanra, Ayush Ankit, Balagopal VK, Balaji P B, Balwant Negi, Barbara DeWitt, Bhalchandra Pujari, BHARATHESH VALMIKI, Bharath UG, Bhaskar pandeti, Bhaskar Sati, Bhautik Desai, Bhavesh Mengar, Bhupesh Goyal, Biang Syiem, Bijoy Venugopal, Bird Snappers, Biswanath Mondal, B.R. ANSIL, Brodie Lewis, Cathy Pasterczyk, Chaatak Nature Conservation Society, CHANDRA BHUSHAN, Chandrasekaran Venkatraman, Chandrashekar Sundaram, Chayant Gonsalves, Cheran Jagadeesan, chetan harikishandas joshi, Chetna Sharma, Chitra Patel, Chris Bowden, Chris Hugosson, Cinchona GHS(Group account), Ck Pattnaik, CLAREENA JOSE, Clive Temple, CNS Nature, Colin Braganza, Conrad Braganza, Craig Dunn, Dakshina Sudhir, Daniel Romero, Darshan Dudhane, David Bates, david stanton, Dayani Chakravarthy, Deepa Chandran, Deepa Javdekar, Deepa Kamat, Deepak Sahu, Deepjay Sarkar, Deepti Gupta, denzil britto, Devashish Jadia, Devi Ambika.S, Dhananjai Mohan, dhananjay bhamburkar, dhananjay gutte, Dhanashri Salunke, Dharmaraj Patil, Dhiraj Bhaisare, dhiren malani, Dhruba Saikia, Dhruvam Desai, Dhruvaraj S, Dick Williams, Dilip K G, Dina Nisthar, dinesh kandwal, Dinesh Pundir, Dipak Gudhekar, Dipu Karuthedathu, Divin Murukesh, Divya Mudappa, Dr Chandrashekhar Shirur, Dr George P J, Dr. Jayant Wadatkar, Dr. Krishna kumar, Dr. M N Astagimath, Dr Sumit Chakrabarti, D VAMSHI SHRAVAN, Emanuel george , Eric Sandberg, Ezhupunna Birders, Fareed Mohmed, Fermin Jose, Firoz Hussain, Gaja mohanraj, Ganesh Datar, Ganesh Honwad , Ganesh R Mandavkar, Ganeshwar S V, Gani Khatri , Garima Bhatia, Gaurang Bagda, geeta goswami, Geetha Venkataraman, gireesan tu, Gireesh Pallikkara, Gnanaskandan Kesavabharathi, Gokul Krishna, gokul vadivel, Gopalakrishna R, Gopalan Surendhran, gopal prasad, Govindarajan Raghavan, GOVIND GIRIJA, Gowthama Poludasu, G Parameswaran, great gray owler , greeshma paleeri, Guhan Sundar, Gunasekaran m, Guruprasad Timmapur, HANNA THOMAS, hardik kalavadiya, Hari Krishna Adepu, Harikrishnan S, hari kumar, HARI MAVELIKARA, Harish Chandra, Harish NN, Harsha Jayaramaiah, harsha nr, Harshavardhan Jamakhandi, Harshith JV, HARSHJEET BAL, Hashiq AH, Hemanth Byatroy, Hemant Kirola, hemant kumar, Hemanya Radadia, hemraj duraiswami, Himadri Banerjee, Hitendra Choudhary, Hou Xiaoru, Humayun Taher, Indira Srinivasan, Ismail Shariff, Jadeswamy Madaiah, Jaichand Johnson, Jaidevsinh Rathod, jain pk, Jameela Parampatt, janani manthena, Janhavi Rajan, Janhvi Vyas, Jaswinder Waraich, Jayadev Menon, Jayan Thomas, Jaydev Mandal, Jeetendra Chaware, Jeet Sheth, Jeremy Bowman, Jitendra Bhatia, J L Singh, Job Joseph, Joby Joseph, JOHN VACHAPARAMBIL, joshua Dsilva, Joy D'costa, Jyotirmoy Saikia, Kaajal Dasgupta, Kalyan Ineni, Kalyan Varma, Karan Tambe, Karthikeyan G B, karun g, Kaustubh Rau, Kavi Nanda, Kavinder kumar, Kavin SG, Kennett Offill, Ketaki Deshpande, Khushboo ., kiran more, Kiron Vijay, Kirti Wani, Kishore Bakshi, Kishorekumar Panaganti, KN Sivakumar, Komal Agrawal, Kranthi Kiran, Kranti Singh, Krishna Deepak, Krishna Girish, krishna kumar, Krishnamoorthy Muthirulan, Kshipra Suresh, K.Sravan Kumar, Kulbhushansingh Suryawanshi, kushal adaki, kuttettan munnar, Lakshmikant Neve, Lakshminarasimha Ranganathan, Latha G A, Leigh McDougal, lingesh kalingarayar, Lisa Maria John, Lloyd Fernandes, mabel menezes, Macson D Almeida, Madhurima Das, Madhusudhanan T, Magesh Ram, Mahathi Narayanaswamy, Mahesh Garg, Mahesh madhu, MAITREYA SUKUMAR, Mallika Rajasekaran, Malyasri Bhattacharya, Manan Singh Mahadev, Mandar Bhagat, Mangesh Prabhulkar, Mangirish Dharwadkar, Manibabu Krishnan, Mani Chacko, manish kerkar, Manjula Ravi, Manju Sinha, Manohara Kamath, Manoj Karingamadathil, Manu Mengi, Maruti Gurav, Marvelyn Dias, Maulik Varu, MAXIM RODRIGUES K, Mayuresh Joshi, M D Madhusudan, Md Shafi, Meghna Banerjee, meher preetham, Mehreen Khaleel, Mike Prince, Milan Sojitra, Milind Ganatra, MILIND SAWDEKAR, Miraj Hussain, Misha Bansal, Miti Sekhon, Mittal Gala, Mohan Chandra Joshi, Mohan K Pillai, Mohit Aggarwal, Mohith Shenoy, Mohit Mehta, Monika Gandhi, Mou Jana, mridul anand, Mrinalini Siddhartha, Mrs. PRIYA RAKESH, mujeeb pm, Mukundan Kizhakkemadham, Mulagala Srinivas, Murtuza Hussain Abrar, Muthu Narayanan, M V BHAKTHA, Mytheeswaran T, Nachiket Kelkar, Naidu Kumpatla, Naman Doshi, Naman Goyal, namassivayan lakshmanan, Nandkishor Dudhe, Narahari Kanike, Narayan Sharma, Narbir Kahlon, Naresh Vadrevu, Naveen Kumar, Naveen Sira, Neeraj Amarnani, Nelson George, Ninad Raote, NIRAJ NARAYAN BARUA, Niranjan A, Nisarga Srinivas, Nisha M, Nishant Shah, nishith Kumar, Nishit Soni, Nitin Tomer, Nivedita Kotharé, North Karnataka Birders network, Nosherwan Sethna, omkar adhikari, omkar naik, Pallavi Singh, PANKAJ GUPTA, Pankaj Jalote , Pankaj Sharma, paresh gosavi, Parmil Kumar, Parthiv Shah, Parvaiz Shagoo, PARVATHY AS, Patrick David, Pavan Ramachandra, Pavithra Sankaran, Pawan Dhall, PC Banerjee, Phani krishna Ravi, Piyush Dogra, Polly Poulose, Poojan Gohil, pooja pawar, pooja s thakur, Prabhat Kumar, Prabhavathi Sudhakar, PRADEEP KM, PRADEEP KUMAR V B, Prajakta Adsul, Pramod Venkatesh murthy , Pranav abi, prasad YSRK, prashant bhagat, Prashanth N S, Prashant Kumar, Prashant Tewari, Pratap Singh, Prathamesh Tiwari, Prathima Chennakesavula, Pratiksha Kothule, Praveen es, Praveen Eshwarappa, Praveen J, Premananda Pal, Premchand Reghuvaran, Priti Aphale, PRITPAL PANJETA, Pronoy Baidya, Punit Mehta, Pushkar Chaubal, Qazi Hammad Mueen Qari, Radhakrishna Upadhyaya K, Raghavendra Mukundarao, Raghubir Prasad, Raghu Nathan, Rahul Matmari, rahul narlanka, Rahul Shah, Rahul Wakare, Rajaneesh Ghadi, Rajarajan V, Raja Simma Pandiyan, Rajeev khandelwal, Rajendra Dave, Rajendra Gadgil, Rajesh Balakrishnan, Rajesh Bhalodia, Rajesh Jadav , Rajesh Kumar Reddy, Rajesh Lenka, Rajesh Panwar, Rajesh Prasad, Rajesh Radhakrishnan, Rajneesh Suvarna, Raju Kasambe, Ram Aithal, Rama Neelamegam, Ramanjinaiah v Siddu, Raman Kumar, Ramesh Desai, Ramesh Shenai, Ramit Singal, Ramnarayan K, ramraj s, Ramya R, raphy kallettumkara, Ravi D, Ravi Shihurkar, REEF RCOEM, Regin George, Regin Ross, renju tr, renuka Vijayaraghavan, Rinto Abraham, Ritobroto Chanda, riyaz peerzada, Robin Panigrahi, Rohan Chakravarty, Rohit Chakravarty, Rohith Rajan, Rohit Naniwadekar, Rojin V, Ronald Vaz, Ronit Dutta, ronny augustine, Roshnath R, Rouf Sadiq Tantray, Rustom Basumatary, Sabeer Mampad, Sachin Main, Sachin Sarode, Sadasiva Sahukar, Sahana M, Sahil Rastogi, Sajan Jose, SAJI S NAIR, sakthi manickam, Sameer Neve, Sampreeth Desai, Samrat Kalita, Samyukth Sridharan, Sandeep Augustine, Sandeep Sathyan, Sandhya Lenka, Sangeetha Kadur, Saniya Chaplod, Sanjay Karanth, Sanjay Malik, Sanjay Sondhi, Sanjeev Goyal, SANJIV KHANNA, sanju majumder, Santanu Manna, Santharam V, santhosh kumar, santosh thakur, Saransh Fattepuria, saravanan ajith, sarbjeet kaur, sasidharan manekkara, Sathya Chandra Sagar H S, Satyan Basavanhally R, Satypal Singh, Saurabh Jawanjal, Saurabh Sawant, Savithri Singh, Selvaganesh K, Sethu lal, Shah Jahan, Shahla Yasmin, shaleen mohan, Shanmugam Kalidass, shantilal Varu, Sharad Apte, Sharang Satish, SHARATH G.M., Shariq Khan, Shashank Birla, Shashikant S. Naik, SHESHGIRI BAGDE, shishir shendokar, Shivakumar M, Shivangi Jain, Shivi Mishra, Shiv Kumar, shobita asthana, Shreeram M V, Shreyan M L, Shreya Rao, Shrikanth nayak, Shubham Gautam, Shwetha Bharathi, Sibin Thomas, Siddharth Kallam, Siddhesh Surve, Sidharth Nagar, Sivakumar SS, Sivakumar Swaminathan, siva raju, Sivashankar Ramachandran, SIVASUBRAMANYAN MANGAPURAM VENKATA, Siva T, Smrity Ramavarapu, Sneha Gupta, SNGGHS BIRDERS, Soma Ateesh, Somoyita sur, Somraj Gupta, Sonalika Dugar, Soni Nambiar, Sourajit Ghosal, sourav maiti, sreebin p s, Sreekanth P , Srikanth Bhamidipati, Srikanth Bhat, Srinivasan Kasinathan, Srinivasa Shenoy, Sriram Reddy, S S Cheema, SS prasanth, steffin babu, Subash Nachimuthu, Subhajit Chaudhuri, Subhrajit Acharya, Subin Sudheendran, Subramanian Sankar, Subramniam Venkatramani, Sudhir Reddy, Sugandha Gosavi, suhail parayil, Suhel Quader, SUJAN CHATTERJEE, Sujata Duarah, Sujata Phadke, sujatha rangaswami, Sumanta Pramanick, Sumedh Jog, Sumesh b, Sumin George, Sumit Dookia, sundareswaran vetaikorumagan, Sundar Palanivelu, sunil kumar, Sunil Moteria, SURAJ NAIK, Suraj Suryavanshi , Surendhar Boobalan, Suresh Rana, Surjeet Pathania, Surya Prakash, Sushma Charantimath, Susy Varughese, sutirtha lahiri, Swapnil Wankhede, swathi chandramohan, Swati Sidhu, Syed Abdul Kadhar, Syed Muzamil, Taksh Sangwan, Tanmay Jain, Tanya Seshadri, Tarun Menon, Taukeer Alam Lodha, Tejas Vagadia, Thakur Dinesh Singh, TheNatureTrust (GroupAccount), TheNatureWeb.Net Team, The Pollachi Papyrus, Thomas Falk, Thorkild Michaelsen, tony antony, Trilok Rana, Tropical Forest Research Institute Jabalpur, Troy Blodgett, T R Shankar Raman, Udaya Kumar Balasubramanian, Uday Kiran, Umesh Vaghela, Urvi Gupta, Vaibhav Saigal, Vaidehi Gunjal, vaisakh george, Vaishnav S, vedang saunt, Velsina Rodrigues, Venkatesh Prasad, Venkatesh R, Venky Muthiah, Venugopalan R, Vidhya Sundar, Vignesh Menon, Vijaya Lakshmi, vijay kumar, Vijay kumar, Vijay Kumar, Viji G, Vikas Madhav Nagarajan, Vikas Sharma, Vikram Penmetsa, vikrant yadav, Vinayak Pakhre, Vinay Bharadwaj, Vinay Nadig, Vinay Navulla, vincent vinay, Vineeth Kumar, Vinoba Anand, Vinod Venugopal, Vipul Trivedi, Viraj Malani, Viral Pankaj, Virender Sharma, vishal gawali, Vishal & Sophia D, Vishambhar Agarwal , Vishnupriyan Kartha, vishnu sankar, Vishwanath Shinde, Vishwatej Pawar, Vivek Puliyeri, vrinda lath, Wahiba Humam, Wesley Rajaleelan, Will McPhail, Yadu .., Yagnesh Desai, Yajuvendra Upadhyaya, Yash Khatri, yashvardhan rana, Yogesh Parashar, Zareef Khan Lodha
Are you doing your best to match the target for May (standardized counts on 15 days from the same location)? And there is also a set of yearlong challenges for 2016 to bird towards!