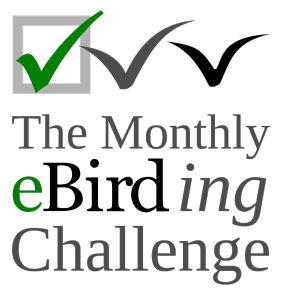 Before moving on to the results for the monthly challenges, here is a brief glimpse of birding in April by-the-numbers (with previous month in brackets).
Number of birders: 1,060 (1,360)
Number of lists (all types): 10,200 (20,600)
Number of lists (complete, 15min or longer): 7,900 (15,400)
Number of observations: 1.90 lakh (3.30 lakh)
April challenge
The challenge for April was to watch birds using a standardised protocol over at least 15 days in the month from a single location. This was to demonstrate the utility of systematic monitoring of birds at particular sites. Of the 1,060 eBirders in April, 14 met or exceeded this target. They are (as always, excluding group accounts):
Ajay  Gadikar
Aravind Amirtharaj
Ayush Rajotia
Ganeshwar  S V
Jayadev  Menon
Jaydev Mandal
Kadambari Devarajan
Lakshmikant Neve
Mridul Anand
Prashanth N S
Shanmugam Kalidass
Sita Rama Raju
Vidhya  Sundar
Vinay Nadig
Many congratulations to all of them!
One out of these 14 birders was selected, using a computer-generated random number, to receive a small gift in appreciation. That person is
who receives a copy of How to be a Bad Birdwatcher, by Simon Barnes.

Gap-filling challenge
The gap-filling challenge for April was to upload a minimum of four eligible checklists from any one or more of the 340 Districts that were represented by less than 30 minutes of eBirding in all previous Aprils. A total of 172 complete birdlists of 15 min or longer were uploaded from 54 of the 340 target Districts, by 70 birders. Of these, 10 birders met the target for the gap-filling challenge, and these are listed below, together with names of the districts they uploaded 4 or more lists from):
Afaq Majid (UP-Allahabad)
Akshay Surendra (AN-North and Middle Andaman)
Anil Mahajan (MH-Garhchiroli)
Debayan Gayen (WB-Barddhaman)
Deepak  Dhakad  (UP-Allahabad)
Gokul Vadivel (TN-Perambalur)
Raja Bandi (RJ-Bikaner)
Rajib Maulick (WB-Barddhaman)
Sanjay Sondhi (NL-Zunheboto)
Swetashree Purohit (OR-Koraput)
Many thanks to all of them for helping fill eBird gaps in India!
One person from these 10 was chosen using a computer-generated random number to receive a small gift. That person is
who receives a copy of The Thing with Feathers: The Surprising Lives of Birds and What They Reveal About Being Human, by Noah Strycker.
Here is the full list of all 1,060 eBirders from India in April 2017:
12345 67890, Aaditya Khandelwal, Aaditya S Kumar, Aakash Lamba, Aamir Nasirabadi, Aaron Sequeira , Abhay Yellore, Abhijeet Avate, Abhijit Das, abhijith a.p.c, Abhijith surendran, Abhijit Menon-Sen, Abhilash K, Abhinandan B A, Abhinand C, Abhinav Chaudhary, Abhiram Sankar, Abhirup Khara, Abhishek Bhargava, Abhishek Das, Abhishek Ghoshal, abhishek gopal, Abhishek Jamalabad, abhishek ravindra, Abhishek Shankar, Able Lawrence, Adarsh A, Adarsh V, Adhithyan NK, Adithya Bhat, Aditi Paranjape, Aditi Shah, Aditya Banerjee, Adnan Raja, Afaq Majid, Afshan Husain, Aisha Sultana, Ajay B, Ajay Gadikar, Ajinkya Supekar, Ajit A, Ajith u, AKHIL ANILKUMAR, AKHILA P, Akhilesh Sharma , Akshay Rao, Akshay Surendra, Albin Jacob, Ali Kapi, Aljo Anand, Aloysius Fernandes, Alvaro Jaramillo, AMALKRISHNAN.S AND AKASHKRISHNAN.S, AM AMSA, Aman Sharma , Amar Mulwani, Ambika Pradhan, Ameya Deshpande, Amit C Javgal, Amjed Ebrahim, Amol Bapat, Amol Lopes, Amrutha Rajan, ANAND Osuri, Anand Pendharkar, Andrew Johnson, Aneesh Sasidevan, Aniketa Kabir, Anil Goyal, anil kumar singru, Anil Mahajan, Anil Sharma, animesh manna, Anindya Naskar, Anirudh Kamakeri, Anirudh Singh Chauhan, anisha jayadevan, Anish Aravind, Anisha Velayudhan.K, anith nair, Anju G L, Ankit Arora, Ankit Rajotia , Ankit Vikrant, Ankur Shekdar, Anoop CR, Anoop King, Ansie Martin, Anu john, ANUPAM MUKHERJEE, Anup Chavda, Anup Prakash, Anurag Vishwakarma, Aparajita Datta, Aparna K, APARNA NEVE, aparna s, Apurba Chakraborty, Arabinda Pal, Aravind AM, Aravind Amirtharaj, Archana k mohan, Arijit Mondal, Arijit Sarker, Arjun CP, ARJUN M S, Arka Karmakar , Arnab Chattopadhyay, Arnab Pal, Arnold Goveas, Arpit Deomurari, Arul Paradise, Arulvelan Thillainayagam, Arun B, Arun Chungappally , Arundev G, Arun George, Arun Jap, arun lal, Arun Prabhu, Arun Singh, ARYAKUMARAN M, Asad Kidwai, Asha Ashu, Asha Philip, ASHA SOHIL, Ashish Babre, Ashish Bhatt, Ashish GB, Ashish Gupta, Ashish Jha, Ashish Loya, Ashis Kumar Pradhan, Ashlin Hezakiel, Ashmita Priyadarshini, ashok tumpati, Ashu Singh, Ashvinkumar Italiya, Ashwin Bhat, Ashwini Karangale, Ashwini R, ashwin mohan, Atanu Modak, Atharva Kulkarni, Athira K Nair, ATHUL E S, Augustin Joseph, Avinandan D, AVINASH BHAGAT, Avinash K Mon, Avinash Sharma, Avisek Banerjee, Avishkar Munje, Ayan Khanra, Ayush Rajotia, Azad Kamil, Babasaheb Jawale, BALA BHARATHI, Balaji P B, Balakrishna Marar, balakrishnan ram, Balasubramanian Sreenivasan, Balwant Negi, Barun Chatterjee, Basanta Behura, Baseer Baniya, Bhalchandra Pujari, Bhanu Sridharan, Bhaskar pandeti, Bhavesh Rathod, Bhavik Dutt, Bhawana Jaiswal, Bibin N V, Bimal Modi, Bimalnath Punnassery, Binduja Mohan, Binod Borah, Bird Snappers, Birendra Kumar , Biswajit Chakdar, Biswanath Mondal, B. Narayan Deb, Bob Zaremba, Bopanna Pattada, B.R. Ansil, Brihadeesh Santharam, Brodie Lewis, Carmel R, Chaatak Nature Conservation Society, chaitanya chinta, CHANDRA BHUSHAN, chandrahas kallur, Chandrasekaran Venkatraman, Chandra Sekhar Bandi, charles naveen, Chayant Gonsalves, Cheran J, chetan harikishandas joshi, Chetna Sharma, CHINMOY BANERJEE, Chirag Munje, chithrabhanu pakaravoor, Chris Bowden, Cinchona Govt High School(Group account), Clara Correia, Clara Correia, Clive Temple, CNS Nature, connie cloud, Dakshina Sudhir, Darshan Mujumdar, David Phinehas, David Raju, david stanton, dayal rana, Dayani Chakravarthy, Debasish Sengupta, Debayan Gayen, debbie martin, Debjani Chakraborty, Deenamol Joy, Deepa Javdekar, Deepak Dhakad , Deepak Mani Tripathi, Deepa Mohan, Deepa Rane, denzil britto, Devathi Parashuram, Devika Ps, Dev Vasudevan, Dhananjai Mohan, dhananjay gutte, Dharmendra Pare, Dharmendra Prasad, Dhaval Parikh, Dhaval Vargiya, Dhinesh Gnanadhas, Dhiraj Das , Dhruba Saikia, Dhruthi Somesh, Dhruv Agarwal, Dhruvam Desai, Dhyey Shah, Dilip K G, Dilip Virkhade, Dils Joree, Dincy Mariyam, Dinesh kumar, Dinesh Pundir, Dinesh Ramakrishnan, DIPTI HUMRASKAR, Dipu Karuthedathu, Divya Mudappa, DIVYA SINGHAL, divya srivastava, Divyesh Ghervada, Diwakar Kaushik, Donald Preetam Henry, Doug Cooper, Douglas Ball, Dr.Ankit Godara, Dr George P J, Dr. Jayant Wadatkar, Dr.Krishna kumar. V, Dr Sumit Chakrabarti, DrVijay Singh Yadav, Dr Vivek Dubey, Durgesh Singh, DUTTA SALIL, Elavarasan M, Emanuel george , Enakshi Bhattacharya, Esha Munshi, Evelyn Rangel, Ezhupunna Birders (group account) , Falguni Mohanty, Fareed Mohmed, Farnaz Nabiya, fermin jose, forest venkat, Frank Antram, Gaja mohanraj, Galibore JLR, Ganesh R Mandavkar, Ganeshwar S V, Garima Bhatia, Gaurab Talukdar, Gaurang Bagda, Gaurav Kadu, gaurav pangtey, Gaurav P J, Gauri Achari, Gayathri Prabhu, GBCN Goa, Geeta Yadav, Geetha Venkataraman, Geoff Butcher, Gillian Wright, Girish Jathar, GIRISH MN, Glan Preethesh, Gokul Vadivel, Gopakumar VR, Gopalakrishna R, Gopal Bhaskaran, GOPAL GOEL, Gourav Kumar Mishra, GOVIND GIRIJA, Gowthaman K.a, Gowthama Poludasu, G Parameswaran, Graham B Langley, Guhan Sundar, Hakimuddin F Saify, Hanuman Gawas, Hari Krishna Adepu, HARIKRISHNAN CP, Harikrishnan S, hari kumar, harirpiya s, HARISH K, Harish Prakash, Harpal singh, Harshada Kulkarni, Harsha Jayaramaiah, Harshil Sharma, Harshith JV, HARSHJEET BAL, Harshul Thareja, Heam chandar, Hemanth Byatroy, Hemant Kirola, Hemanya Radadia, Himadri Banerjee, Himal Prakriti, Himanshu Dave, Himanshu Gupta, Hiren Majithiya, Hitesh Chawla, Hitesh Kavle, Hitesh Topiwala, Hopeland P, Howard Laidlaw, Howie Nielsen (SVC), Hrishikesh Rane, Hyderabad Birding Pals, Hyder Ali, Ian Barker, IBIS Andril, ILOVE BIRDS, Imdadul Ahmed, Indira Srinivasan, Induchoodan A Sreedharan, Irshad Theba, Jadeswamy Madaiah, Jagat Flora, Jaichand Johnson, Jaiganesh Balakrishnan, JALIL BARGIR B, Jamaludheen Karivelil, Janhvi Vyas, Jaswinder Waraich, Jayadev Menon, Jayan Thomas, jaya peter, Jaya Rakesh Kannan, Jaydev Mandal, Jayesh Ghanekar, Jayesh Kini, Jeevanandam Manoharan, jenis patel, Jen Walsh Fisher, Jeyakumar Johnson, Jim Mitchell, Jincy Justin j.k., Jitendra Jha, Jitendra Sarmah, JITENDRA SINGH, jithesh pai, Jitumoni Haloi, J L Singh, Joby Joseph, Joel Ranjithkumar , JOE MRAJA, JOGI DASS, Jomon Koshy, joshua Dsilva, J.Thomas Cheruvallil, juee khopkar, JUGAL PATEL, Jyothi Kshekhar, Kaajal Dasgupta, Kadambari Devarajan, Kalaimani Ayuthavel , Kalpak Gadre, kalpana malani, kalyani dilip, Kalyan Ineni, Kalyan Varma, Kamalanathan A, kanishk kothari, Kannan AS, Karthick VS, Karthik Enumulla, Karthikeyan Ponnambalamoorthy, Karthik Raja R, Kartik Mundargi, Kartik Varma Namburi, Karunakar Rayker, Kashyap R, Kathy Drake, Kausthubh K Nair, Kaustubh Rau, Kavi Nanda, Kavin SG, Ketan Shah, Khaleel Rahman, Kingshuk Mondal, Kiran bagade, kiran kumar, Kirankumar Gunasekaran, kiran more, Kiron Vijay, Kishore Kumaran S, Kishore P, Kishore Raj, krishna kumar, Krishnamoorthy Muthirulan, Krishna Murthy, Krishnamurthy Vijaykumar, K.Sravan Kumar, Kulbhushansingh Suryawanshi, Kuldeep Mhatre, Kumaresan Balasubramaniam , Kumar RR, Kushagra Rajendra, kuttettan munnar, KV Rajeev, Lakhan kohli, Lakshmikant Neve, Lalitha Krishnan, Latha G A, Latha Prabhakaran, Lathish R Nath, Lawrence Mathappan, Lekshmi Jayakumar, Leonard Rebello, Leons Mathew Abraham, Lingaraja Venkatesh, Lloyd Fernandes, Loukika Neve, Luke Powell, Luke Shelley, madhur chhabra, Madhurima Das, madhushri mudke, Magesh Ram, Mahesh madhu, maithreyi m r, Mallika Rajasekaran, Malyasri Bhattacharya, Mamta Parmar, Manan Singh Mahadev, manas barve , Manas Kulkarni , Mandar Bhagat, Mangesh Prabhulkar, Mangesh Tayde, Manglik Anand, Mani Chacko, Manikandan S, Manik Dutta, Manish Chandi, Manish Kadam, manish kerkar, Manish Kumar, Manjeet Kaur Bal, Manjula Ravi, Manjunath R S, Manju Sinha, Manoj Karingamadathil, Manoj Kumar Vittapu, Manzoor A, Marilee Meuter, Marissa Menezes, Martjan Lammertink, Masilamani Selvam, MAXIM RODRIGUES K, Mayukh Ghose, Mayur Gawas, Mayuri Kotian, M D Madhusudan, Md Shafi, Mebin Varghese, meera jay, Megha Chagtoo, Meghana Natesh, Meinrat O. Andreae, Melvin Jaison, Mihir Barve, Mihir Sule, mihir swain, Mike Waters, Milan Sojitra, Milind Ganatra, MILIND SAWDEKAR, Minal Patel, Mindaguditi Niharika, Miraj Hussain, Misha Bansal, Mittal Gala, Mohamed Salman, mohammed hirash, Mohanan Choron, Mohandas Giriyappa, Mohit Aggarwal, Mohith Shenoy, Mohit Joshi, Mohit Mehta, Monica Kaushik, Mou Jana, Moushimi Mederametla, mridul anand, Mrinalini Siddhartha, MS Raghunath, Muhammed Bilal, Mukesh Sehgal, Mukundan Kizhakkemadham, Mumbai Bird Race Group Account, Murtuza Abrar, Murugesh Natesan, Musa Kalim, Muskan Chawla, Mustafizur Rahman, M V BHAKTHA, Mytheeswaran T, Nagappan R, Nagarajan BSMS, Nagendra Nayak, Nagesh KG Gowda, Nalini Aravind, namassivayan lakshmanan, Nameer PO, Nandish Songire, Narender Khaira, Narendra Latthe, Naresh Babu, Naresh Vadrevu, Naseer Kappalli, Naveen Sama, Naveen unnimenon, naveen upadhyay, NAVYAK BHASKAR P, Nayan Thanki, Neeraj Amarnani, Neeraj Sharma, neha talegaonkar, Nelson George, Nikhil Pinto, Nikhil Vijay Gorde, Nilesh Das, Nilesh Shah, Ninad Raote, Niranjan A, niranjana ks, Niranj Vaidyanathan, Nirjhar Banerjee , Nisha maan, Nishant Shah, Nishit Soni, Nitheesh S Pillai, Nitin Tomer, Nitu S, nizar virani, N Mahathi , Nosherwan Sethna, Omkar Dharwadkar, Omkar Joshi, Padmaja Prabhu , padmakar pimpalkar, Padmanav Kundu, padma ramaswamy, Pallavi Arora, Panchapakesan Jeganathan, Panduranga PB, PANKAJ GUPTA, PANKAJ KOPARDE, Pankaj Lad, Pankhuri Jain, paras jivani, Parvaiz Shagoo, Pavan Ramachandra, PAWAN DARNE, Payal Mehta, Periyasamy Rajangam, Peter Boesman, Phani krishna Ravi, Phil Walton, Piyush Dogra, Polly Kalamassery, pooja pawar, Poonam Nayaka, P.P. SUKUMARAN, Prabhanjan Behera, Prabha S, Prachi Mehta, Prakash G, Pranav Balasubramanian, Pranav Pradeep, Pranita B, PRANTIK RANJAN ROY, Prasad Ganpule, Prasad JN, Prasad P.S, Prasanna Deshmukh, Prasanna Gautam, Prasanna Kumar Mamidala, Prasanna Parab, PRASANTH S, Praseeda John, prashant bhagat, Prashant Choudhury , Prashanth N S, Prashanth vc, Prashant Kumar, Prashant Parkash, Prashant Subramanian, Prashant Tewari, Prathamesh Desai, Praveen J, Praveen Kumar, Praveen Manivannan, Praveen P, Praveen Tammy, Praveen Velayudhan, Pravir Deshmukh, Prayut Mandal, Preeti Saini, Premchand Reghuvaran, Prem Prakash Garg, Pridhvi Sabbineni, Prithivi Raj S, Pritish Behera, Priya Bowley, Priyadarshini K, Priyamvada Iyer, Priyanka Bhagyavant, Priyanka Hejmadi, Priyanshu Karmakar, Pronoy Baidya, Puneet Dhar, Punit Lalbhai, Punit Mehta, Purabi Deshpande , Purvash Jha, Pushpa C R, Pushpa Puliyeri, Raaj Bora, Radhakrishna Upadhyaya K, Radhika Bajaj, Raghavendra Kalal, Raghavendra Mukundarao, Raghubir Prasad, Raghu Nathan, Ragothaman Venkataramanan, Rahul Arora, rahul kala, Rahul Matmari, Rahul Paranjape, Rahul Sachdev, Rahul Shah, RAHUL TALEGAONKAR, Rahul Wakare, Raimund Barth, Raja Bandi, Rajaneesh Ghadi, Rajarajan V, Rajashree Ray, Raja Simma Pandiyan, Rajdeep Mitra, Rajeev Ahal, Rajeev khandelwal, Raj Elangov, Rajendra Gadgil, Rajendra Koranga, Rajesh Balakrishnan, RAJESH KUMAR, Rajesh mangal, rajesh n nayak, Rajesh Panwar, rajesh poojary, Rajesh Prasad, Rajesh Radhakrishnan, Rajib Maulick, Raji J Mohan J Mohan, Rajiv D'Silva, Rajrajeshwar Thakar, Raju Kasambe, Raju Kidoor, Raj Umrani, Raju Sankaran, RAKHEE SHARMA, Ram Aithal, Rama Neelamegam, RAMANI CHALLA, Raman Kumar, Rama Ranee, Ramesh Shenai, Ram Gopalakrishnan, Ramnarayan K, ramraj s, Ram Veer, Randeep Singh, Rangesh Sukumaran, raphy kallettumkara, #Raptorbaaz ., Ratul Singha, raveendran kc, RAVI DHONGLE, Ravi Krishna Wunudurty, Ravi naidu, Ravindra Kaushik, ravi patel, Ravi Sharma, Rayan Pradeep, REEF RCOEM, Regin Ross, renju tr, Renuka Vijayaraghavan, Reuben Malekar, Rishi Mukherjee, Ritesh Dighe, Ritesh Sharma, Rithikha Kalidos, Ritvik Singh, Riyan Konkath, Riश Dharwadkar, Robin Panigrahi, Rofikul Islam, Rohan Chakravarty, Rohidas Revankar, Rohit Chakravarty, Rohit Gangwal, ROHITH SRINIVASAN, Rohit Mudadi, Rohit Naniwadekar, Rohit Pansare, ROJA ROY P, Ronit Dutta, Rouf Sadiq Tantray, Rudraksha Chodankar, Ruma Sinha, Rushil Fernandes, Rustom Basumatary, Rutuja Dhamale, Rutuja Kukade, Rutuja Kukade , Ryan Nagaraj, saagar patil, sabarish kumar.p.r, sabeer ali, Sachin Chandran, Sachin Main, Sachin Sharma, Saddam Husain Lodha, Sagar Adhurya, sagar kempegowda, Sahana M, sahithya selvaraj, Saikat Adhurya, Sajeev Krishnan, Sajith Komath , Salina Sultana, Samanyu Neelson, Sam Ashar, Samyukth Sridharan, SANCHITA DEY, Sandeep Bapat, Sandeep Krishna Das, Sandeep Sakhare, Sandeep Sathyan, Sandhya Lenka, Sandip Telang, Sanjay Karanth, Sanjay Malik, Sanjay Sondhi, Sanjay VP, Sanjeeva Nayaka, Sanjeevani I.K, sanjeev Dhar, Sanjeev Goyal, SANJEEV NALAVADE, Sanjiv Khanna, Santanu Manna, Santharam V, Santhosh Kshathriya , Santhosh Pavagada, Santosh Kumar Thakur ( Wildlifer) , Santosh Rajus, Santosh Shitole, Santosh Singh, saparya s, Sarabjeet Kaur, Saraju Dash, Sarrah Reshamwala , Sashi Kumar, sasidharan manekkara, Saswat Mishra, Sathisha CH, sathya kumar, Sathyan Meppayur, Sat Pal Dhiman, Saurabh Sawant, Savithri Singh, Selvaganesh K, Selvaraj Rangasamy, Senan D'Souza, Shafeeq Wilson, Shahina Nowshad, Shah Jahan, Shahper Iqbal, Shahzad Alam, Shakti vel, Shameena S, Shamshad Ali Baniya , Shanmuga Kumar, Shanmugam Kalidass, Shanmugam Saravanan, Shantanu D, Shantanu Mukherjee, shantilal Varu, Sharad Apte, sharan nivas , Sharan venkatesh, sharmila Abdulpurkar, Shashank Birla, Shashikantha Koudur, Shashikant S. Naik, Shashi Kiran Thakur, Shatanik Bhagwat, Shaurya Rahul Narlanka, sheeba nanjan, Sheela Panwar, Shekar Vishvanath, shibu c , SHIFIN S RAVUTHER, Shijith S, Shilpa Avate, shishir shendokar, Shishupala S, Shivakumar M, Shivashankar Manjunatha, Shivi Mishra, Shiv Senthilvel, Shiwalee Samant, Shoan Raskar, Shobi Jose, Shonali Chenzira , shraddha vadgama, shravan suthar, Shriyans Gandhi, Shubhadeep Mukherjee, Shubham Gautam, Shubham S, Shubha Nava, Shuchismita Das, Shwetang Patel , Shwetha Bharathi, SHYAM KUMAR S SOWNDARARAJAN P, Sibin Thomas, Sidharth Srinivasan, Simon Lane, Sita Rama Raju, Sita Susarla, Sivadas Chettur, Sivaguru Noopuran PRS, Sivakumar AK, Sivakumar Ramasamy, Sivakumar S, Sivakumar SS, Sivakumar Swaminathan, Sivashankar Ramachandran, Smitha Badrinarayan, Smitha.S. Govind, Sneha Gupta, Snehasis Sinha, Sohail Madan, Soham Sinha, Soma Ateesh, Somashekhar Kulkarni, Somesh Goyal, Somoyita sur, Somraj Gupta, sonam angmo, Soni Nambiar, Sourabh Tolanur, Sourajit Ghosal, Sourav Dinda, Sourav Sanki, Souvik Das, Sowmya G R, Sreehari K Mohan, Sreekanth P , Sreekumar Chirukandoth, Sreekumar E R, sreekumar k govindankutty, Srikaanth Sekar, Srikanth Bhamidipati, Srikanth Bhat, Srinivasa Shenoy, Srinivas D, Sriram Reddy, SRUTHY I S, S S Cheema, Steffin Babu, steve martin, Strphen Lakshmipathy, Subair M.P, Subbu Subramanya, Subhadeep Ghosh, Subhadra Kondreddy, Subhajit Chaudhuri, Subhayan Chakraborty, Subin Sudheendran, Subi Panicker, Subir Roy, Subramaniam S, SUBRAMANIAN R, Subramanian Sankar, subramania siva, Subramniam Venkatramani, Subrata Kool, Sudeep Nag, Sudeshna Dey, sudhakaran kk, Sudharshan Kuselan, Sudheesh Mohan, Sudhir Garg, Sudhir Reddy, Sudip Ghosh, Sugan Saravanan, Suhel Quader, Sujata Phadke, Sujata Talegaonkar, Sumanta Pramanick, Sumesh PB, sumit maggo, sunil kumar, Sunil Moteria, Sunny Inaganti, surabhi mohan, Surajit Dutta, Surendhar Boobalan, Suresh C Sharma, Surjeet Pathania, suru nair, Surya Prakash, sushmita deepa sinha, Sushree Puhan, Susy Varughese, sutirtha lahiri, Swapna Lawrence, Swarna Ravishankar, Swathi Bhat, Swati Sidhu, Swetashree Purohit, Syed Mustahsen, Syed Muzamil, Takhe Bamin, Tania Roy, Tanmay Jain, Tanweer Alam, Tanya Seshadri, Tapas Biswas, Tapas Misra, Tarachand Wanvari, Tarun Menon, Taukeer Alam Lodha, Tejasvi S Acharya, Tejasvi S Acharya , Thanigai Velu, TheNatureTrust (GroupAccount), The Pollachi Papyrus, THOMAS CHACKO, Thomas Falk, Tijo Kuriakose, Tilroy Fernandes, Tina Toth, Tom Allin, Trilok Rana, Trishant Simlai, Trupti shah, tushar patel, ubais A, Udaya Kumar PL , Uday Chaudhari, Uday Kiran, Uday Kumar, Uday Tarphe, Udiyaman Shukla, Ugen Tashi Bhutia, Ulhas Anand, UMA VENKATESAN, Umesh Mani, Umesh Vaghela, Urmila Sampath , Vaidehi Gunjal, vaishali Chavan , Vaishnav S, Vani Khanna, Varad Talegaonkar, varghese george, vedang saunt, Vedant Kumbhar, Vedant Raju Kasambe, Venkatesh Prasad, Venkatesh R, Venugopalan R, Vidhya Sundar, Vidya Raju, Vidyasagar Hariharan, Vidyut Jauhari, Vignesh Kumar, Vignesh Menon, Vijaya Lakshmi, Vijay Karthick, Viji G, Vikas Madhav Nagarajan, Vikas Sharma, Vilas Mahajan, Vinayak Joshi, Vinay Bharadwaj, Vinay Bhat, Vinay Das, Vinay Nadig, Vinay Navulla, Vineeth Kumar, Vinoba Anand, vinod k, Vinod Puri Goswami, Vinod Shankar, Vinod Verma, Virag Sharma, Viral Pankaj, Virendra Panwar, Vishal Chauhan, VISHNU K, Vishnupriyan Kartha, vishnu sankar, VISHNU SHANKAR, Vishnu Vinod, Vivek Puliyeri, vivek r, Vivek Rawat, Vivek Sadevra, Vivek Singh, Vridhi R, vrinda lath, VV Robin, Wild Roots, Yashi Punia, Yash Shukla , Yenepoya University, Yogesh Parashar, Yogesh Patel, Yousaf olavilam, Zareef Khan Lodha
Are you doing your best to match the target for May (30 checklists with breeding codes)? And do remember that we have a set of yearlong challenges for 2017 to bird towards!